Workers' Compensation Insurance for Amusement Park Employees
"The workers' compensation scheme is a no-fault scheme, which means that workers are entitled to compensation regardless of whether they were at fault for the accident that caused their injury or disability."
What Is Workers' Compensation Insurance?
Workers' compensation, sometimes known as "workers comp," is a government-mandated program that provides compensation to employees who are injured or get ill on the job or as a result of their job. It is essentially a workers' disability insurance policy that offers monetary compensation, healthcare benefits, or both to workers who are injured or ill as a direct result of their jobs.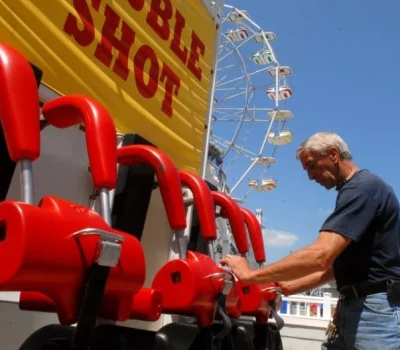 The Need for Worker's Compensation Insurance for Theme Park Employees
Theme parks are commonly viewed as joyful, magical places. People visit family-friendly entertainment parks from all around the world. On the other hand, amusement parks are still places of work. Just because a person does not perform in a cubicle or on an assembly line does not protect him or her from a workplace accident. In fact, working in a theme park can be dangerous. The following are some of the most common causes of theme park injuries:
Causes of theme park injuries
– WEATHER-RELATED INJURIES
Spend an hour in the heat and you'll immediately realize how harmful it can be to work outside in an amusement park. Heatstroke and related conditions can be very dangerous, especially if the individual has previously suffered from a heat-related injury.
– SLIPS AND FALLS
Workers at theme parks may slip and fall on damp surfaces, concrete, broken pavement, stairs, or around swimming pool decks.
-HEAVY, CONSTRICTIVE COSTUMES
Character costumes that thrill youngsters and attract adults are entertaining to look at, but they can be miserable to wear. Theme park employees who are forced to wear uncomfortable headpieces and costumes may get serious head, back, and spine injuries.
The Consequences of Not Having Workers' Compensation Insurance
Owners of small businesses are constantly seeking ways to minimize costs and enhance their bottom line. Nevertheless, one area where they should not cut corners is workers' compensation insurance.
Many business owners may consider workers' compensation insurance to be an unnecessary expense, especially if none of their employees have suffered a significant work-related injury. However, business owners who do not have workers' compensation coverage may face penalties or even jail time, depending on their state's laws.
Since obtaining workers' compensation is required in all states except Texas, businesses that do not operate in Texas and do not purchase this coverage may face severe fines and sanctions. The degree of sanctions for noncompliance varies by state. However, various factors will determine how much you will have to pay in fines for noncompliance, such as:
– Why you're not in compliance: In a scenario where you purposefully omit or
misrepresent information such as the types of work your employees perform and the
number of individuals you employ, you're likely to pay a lot more than if your
noncompliance was accidental or inadvertent.
– How long you haven't complied: Most states will charge you a fee for each day your
firm is not in compliance.
– Size of your staff: Again, this varies by state and is not a rule of thumb, but the smaller
your company and the fewer employees you have, the lower your fines for
noncompliance will typically be.
Why Should Employers Go for Workplace Compensation Insurance?
Common law states that if the employer agrees to pay their part in workplace injuries, regardless of fault, the employee would give up the right to claim against the employer if they get injured in the workplace. Typically, employers pay for compensation which is limited to:
• Medical expenses.
• Wage loss.
States have their distinct laws and provisions associated with situations related to amusement park workers' workplace compensation. But, employees can sue the employer in case of workplace injury under the common workers' compensation law. However, if the employer is compliant with the worker's compensation law, it keeps him on the safe side to be sued for the same by a worker.
On the flip side, non-compliant employers won't get the common law defenses. They are prone to a problem such as:
• Personally paying the cost of wage losses or medical expenses for the injured
workers.
• Injured employee(s) may file negligence lawsuits.
• States penalties for non-compliance: Based on the level of the infraction, the noncomplying employer may get charged with a felony or a misdemeanor.
Workers' Compensation Required Limits
The limits on a workers' compensation insurance policy include employee benefits and employer liability. The employee benefits portion of the policy covers medical expenses, rehabilitation expenses, lost wages, and death benefits to the employee's dependents. Employee benefits do not usually have limits or exclusions.
Employers' liability limits are defined within each insurance policy. Business owners may choose to increase the limits for coverage. Each state sets the minimum required coverage limits. Legal, statutory liability limits in most states are:
– $100,000 per occurrence for bodily injuries
– $100,000 per employee for bodily injury by occupational disease
– $500,000 policy limit for bodily injuries by disease
At UnderWrite Insurance Services, we offer one million dollars insurance policies as well.
The Benefits of A Workers' Compensation Policy
– MEDICAL ADVANTAGES
If you are hurt or get ill on the job, your workers' compensation insurance will cover
all of your medical expenses, including doctor's bills, hospital stays, and ongoing
therapies related to your accident or illness.
– TEMPORARY DISABILITY/LOST WAGES
If you are injured in an accident and are unable to return to work for seven days or
longer, you can claim temporary disability to recover your lost wages. You are
entitled to two-thirds of your typical weekly pay until your doctor determines that you
have reached your maximum medical improvement.
– PERMANENT DISABILITY
If a theme park employee is badly injured on the job, he can be eligible for permanent disability benefits. These benefits will be provided for a limited time if you are injured after the age of 70.
– VOCATIONAL REHABILITATION
A significant injury that prevents you from returning to your role at the theme park could qualify you for vocational rehabilitation benefits.
– DEATH BENEFITS
If an employee dies as a result of a work-related accident, certain family members could be eligible for up to $7,500 for funeral and burial expenses. Also, lost wages of up to $150,000 are payable biweekly based on a percentage point of the compensation rate based on the average weekly wage.
The Common Workers' Compensation Class Code(s) Used
A class code is assigned by the National Council of Compensation Insurance (NCCI) or by state agencies based on the activities of the occupation.
There are many different workers' comp class codes within the amusement park segment. Below is the class code(s) used:
Code 9180: Amusement Device Operation Noc – Not Traveling – & Drivers.
Code 9015: Amusement Device Operator: Carnival or Circus; Amusement Park
Code 7999 : Amusement and Recreation, Nec
Code 7996: Amusement Parks
The Cost of A Workers' Compensation Policy
The cost of coverage will depend on where your employees are situated because each state has different requirements for workers' compensation insurance. Due to the heightened risk of workplace injuries, organizations with more employees may pay higher for workers' compensation insurance.
You pay a certain amount of workers' compensation for each $100 of your company's total payroll. Your workers' compensation premium is determined by the categorization rate of the sort of job your employees undertake, your experience modifier (claims history), and your payroll (per $100).
"The medical bills and lost wages due to an accident at work might cost amusement park employers a significant amount of money if they are not properly insured."
UnderWrite Insurance Services is a national insurance agency that provides A-rated workers' compensation insurance to cover amusement park employees. For a free insurance quote, submit an application below or give us a call at 201-580-6806.