Bridge Construction Workers' Compensation Insurance
Bridge construction site operators must always ensure workers are protected as they go about their daily tasks. They can achieve this by providing workers' compensation insurance for employees.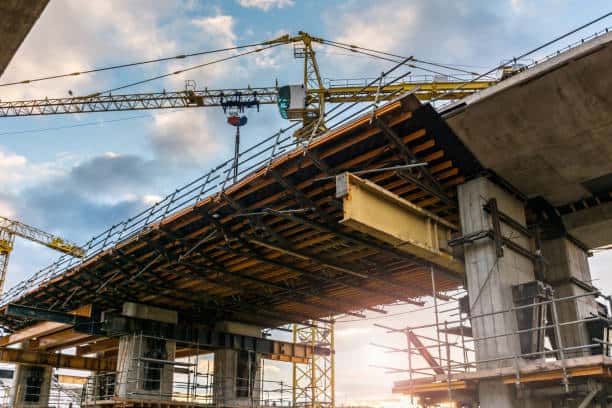 Why Workers' Compensation Insurance
Workers' compensation is a type of insurance that protects businesses and their employees. It is also called workers comp and is a must-have for companies that want to ensure they can cover their employees' medical expenses or make up for lost wages if they become injured on the job.
Bridge construction carries many hazards for workers. In construction, in general, workers are involved in the heavy lifting of materials to make various structures. Similarly, with making bridges, employees work with high-powered machinery and bulky materials at great heights. This can lead to injury, making it important for bridge construction companies to have workers' compensation.
Common Injuries Experienced by Employees
Falls: Working from great heights can lead to dangerous and even fatal falls.
Electrocution: Bridge construction workers are often exposed to generators, power tools, and loose wires that can cause severe shocks and burns.
Chemical inhalation: Bridge construction workers are exposed to harmful chemicals used in construction.
Back pain and strains: Constant bending and repetitive moments can strain muscles, causing bridge construction workers to be unable to work for a while.
The Consequences of Not Having Workers' Compensation Insurance
Operators of bridge construction sites should strive to have workers' compensation insurance to protect their employees. Not having this insurance can lead to lawsuits from their employees. When an employee gets injured, they are looking to have their medical expenses taken care of. If the company doesn't have workers' comp, they will have to pay all costs related to the worker's medical care, including rehabilitative care and disability coverage. The employer can also face imprisonment depending on state laws.
Workers' Compensation Required Limits
The limits on a workers' compensation insurance policy include employee benefits and employer liability. The employee benefits portion of the policy covers medical expenses, rehabilitation expenses, lost wages, and death benefits to the employee's dependents. Employee benefits do not usually have limits or exclusions.
Employers' liability limits are defined within each insurance policy. Business owners may choose to increase the limits for coverage. Each state sets the minimum required coverage limits. Legal, statutory liability limits in most states are:
– $100,000 per occurrence for bodily injuries
– $100,000 per employee for bodily injury by occupational disease
– $500,000 policy limit for bodily injuries by disease
The Benefits of A Workers' Compensation Policy
Here are some of the key reasons why employers should get worker's compensation insurance for bridge construction workers:
– Workers' compensation can cover the medical bills for employees who become
injured while at work. This will also cover the expenses for transportation to the
doctor or to drug stores to retrieve medication.
– Workers' compensation insurance also covers rehabilitative care and disability
benefits.
– This type of insurance also makes up for lost wages when workers are sick and
unable to work.
– If the injury leads to the employee's death, workers' compensation will cover
funeral costs.
The Common Workers' Compensation Class Code(s) Used
A class code is assigned by the National Council of Compensation Insurance (NCCI) or by state agencies based on the activities of the occupation.
There are many different workers' comp class codes within the Bridge Construction segment. Below is the class code(s) used:
Code 5040: Iron or Steel–Erection–Metal Bridges
Code 5222: Concrete Construction In Connection With Bridges
Code 9019: Bridge Or Vehicular Tunnel Operation & Drivers
Code 6003: Bridge or Trestle Construction — wood
Code 5403: Scaffolding–Sidewalk Bridges Not Over One Story in Height
The Cost of A Workers' Compensation Policy
Workers' comp costs vary depending on the following factors:
– The state that your business operates in
– The size of your business
– The industry
The rate for bridge construction workers' compensation can be as low as $9.51 per $100 of wages or cost a minimum premium of $1900. Factors that impact workers' compensation for bridge construction employees include the company's payroll, number of employees, and location.
UnderWrite Insurance Services is a national insurance agency that provides A-rated workers' compensation insurance to cover bridge construction employees. For a free insurance quote, submit an application below or give us a call at 201-580-6806.