Cemeteries and Crematories Workers' Compensation Insurance
Your company must be secured with the appropriate insurance plan if you employ people in cemeteries and crematories. You may feel secure knowing that you, your team, and the
company you created are guarded against lawsuits that could put you out of business with the help of workers comp insurance. Because of this, insurance providers offer workers' compensation insurance to all firms that desire to protect their workers.
What is Workers' Compensation Insurance
A government-mandated program known as "workers compensation" offers benefits to
employees who are hurt or ill on the job or as a result of their work. In essence, it serves as a form of employee disability insurance, paying out benefits to employees who get ill or injured due to their occupations in the form of money, healthcare, or both.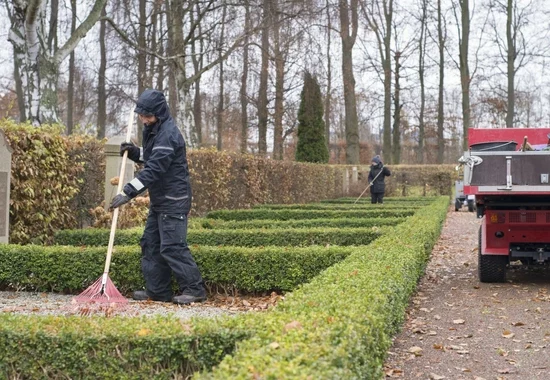 Why do Cemeteries and Crematories Need Workers' Compensation
Insurance?
For both you and your employees, workers' compensation insurance is a crucial kind of coverage. It guarantees that wounded workers, regardless of fault, get lost wages and the treatment they require. Employees at cemeteries and crematories work in a hazardous setting where they are vulnerable to various accidents. In return, companies are protected from expensive worker lawsuits resulting from accidents at work. Because of this, in most states, you must obtain workers' compensation insurance if you have employees.
Common Injuries Experienced by Employees
Employees at cemeteries and crematories work in a hazardous setting where they are
vulnerable to a wide range of injuries, including:
– Burns
– Lost limbs
– Slips and Falls
– Heavy-lifting injuries
Protecting your employees against the aforementioned and other work-related injuries is part of the benefits of obtaining workers' compensation insurance. As a result, your employee will no longer be able to sue your company for workplace misconduct. Your employee receives compensation, preventing perhaps drawn-out legal actions.
The Consequences of Not Having Workers' Compensation Insurance
The consequences of failing to maintain workers' compensation coverage when required by law can be extremely detrimental to a company. Any company's bottom line will suffer because of fines. They may even compel a company to shut down in terrible circumstances. These are some cases of the penalties that may be imposed by each state if a company is discovered to be operating without any worker's compensation insurance coverage for its employees.
– Fines
In addition to other possible liabilities, firms that fail to offer workers' compensation insurance to their employees, whether or not an injury has occurred, run the danger of being penalized by the Department of Labor and Industry (DLI). The company might be forced to provide the required insurance protection, stop hiring anyone at any time without insuring the employee, and pay a fine of up to $1,000 for each employee for each week the employee was uninsured.
– Uninsured workers injured on the job
Employees have the right to ask the state Special Compensation Fund to pay the required compensation if they sustain a compensable injury and their company did not get insurance or follow the correct self-insurance procedures.
– Ten days to respond to further fines and sanctions
A department order regarding insurance coverage must be complied with or opposed by the employer within ten days. The order is deemed final and cannot be reviewed if the commissioner does not receive an objection. If the employer disputes the order, a workers' compensation judge will be asked to determine whether the fine or other aspects of the order are appropriate. In the event that the employer loses, the judge can impose further fines if uninsured workers were employed while the case was pending. Most states have their own state laws that penalize firms that fail to comply with the workers' compensation insurance requirement. It is preferable to protect oneself from potentially costly and time-consuming lawsuits.
Workers' Compensation Required Limits
The limits on a workers' compensation insurance policy include employee benefits and employer liability. The employee benefits portion of the policy covers medical expenses, rehabilitation expenses, lost wages, and death benefits to the employee's dependents. Employee benefits do not usually have limits or exclusions.
Employers' liability limits are defined within each insurance policy. Business owners may choose to increase the limits for coverage. Each state sets the minimum required coverage limits. Legal, statutory liability limits in most states are:
– $100,000 per occurrence for bodily injuries
– $100,000 per employee for bodily injury by occupational disease
– $500,000 policy limit for bodily injuries by disease
The Benefits of A Workers' Compensation Policy
1. Medical Expenses
Workers' compensation insurance pays for urgent care after an injury at work, such as an
ambulance ride or a trip to the emergency department. Additionally, it aids in covering the cost of prescription drugs, hospital stays, and additional medical expenses. Additionally included are ongoing services like physical rehabilitation and ongoing medication.
2. Wage-Loss
An employee may be unable to return to work for days, weeks, or even months following a major accident. The wages lost while an employee is recovering from a working injury or occupational illness are covered by workers' compensation.
3. Lawsuits
Employer's liability insurance is frequently covered by workers' compensation insurance. This policy covers the employer against a lawsuit involving the employer being careless and causing a worker's injury. If an employee files a lawsuit, it may contribute to the cost of the lawsuit, court expenses, and settlements or judgments.
4. Rehabilitation
Benefits for rehabilitation cover the cost of therapeutic and medical treatment (like physical therapy) that is required to help you deal with your accident or sickness and recover. They could also pay for the treatment and instruction required for you to acquire the knowledge and skills you need to go back to work.
5. Death Expenses
The death benefits contained in most workers' compensation insurance can cover burial costs and give the family of the dead financial help if an employee passes away as a result of a work-related illness or accident.
The Common Workers' Compensation Class Code(s) Used
A class code is assigned by the National Council of Compensation Insurance (NCCI) or by state agencies based on the activities of the occupation.
There are many different workers' comp class codes within the cemeteries and crematories segment. Below is the class code(s) used:
Code 9220: Cemetery Operation & Drivers
Code 7261: Cemeteries and Crematories
Code 0999: Cemeteries and Crematories
Code 5022: Monument Setting in Cemeteries & Drivers
The Cost of A Workers' Compensation Policy
Higher premium rates are typically associated with physically demanding jobs, companies with more workers, and history of workplace accidents. The workers' compensation premium you'll have to pay might be significantly dependent on the state where your employees work.
Across all regions and business sectors, workers' compensation insurance typically costs $0.47 per hour per employee. Accordingly, your workers' compensation coverage will cost about $978 per year if you have a single employee that works a typical full-time schedule (40 hours per week, 2,080 hours per year).
UnderWrite Insurance Services is a national insurance agency that provides A-rated workers' compensation insurance to cover cemeteries and crematories employees. For a free insurance quote, submit an application below or give us a call at 201-580-6806.