Chemicals and Allied Products Manufacturer Workers' Compensation Insurance
Workers' compensation insurance protects a business and its owners from claims by employees who suffer a work­related injury, illness, or disease. Workers' compensation typically provides the injured employee with benefits to cover expenses related to the injury or fatality. The Chemicals and Allied Products Manufacturing Industry is vast and diverse. Owners require workers' compensation to mitigate the risks associated with the business.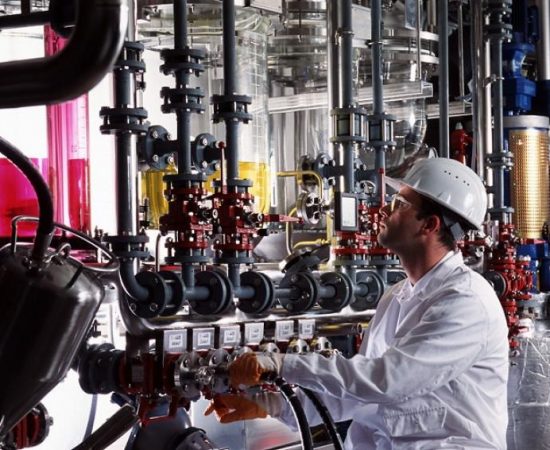 Why Workers' Compensation Insurance
Chemicals and Allied Products Manufacturers process basic chemicals like sodium, potassium, resins, or peroxides. They make finished chemical products that will be used as cleaning products, detergents, cosmetics, or in the pharmaceutical or agricultural industries. For companies that work with hazardous chemicals, the risk that an employee suffers a workplace injury or exposure­related illness is always present.
These hazards can cause extensive physical and financial damage to a business and its employees. There is a great need for Workers Compensation Insurance.
Common Injuries Experienced by Employees
Employees in the Chemicals and Allied Products Manufacturing industry face exposure to dangerous conditions. Injuries from production machinery are common, so are burns from chemicals, slips, trips, falls, foreign objects in the eye, hearing impairment from noise, and back injuries from lifting and handling other material. With some compounds, the possibility of explosion and chemicals may be toxic or caustic, with a high potential for harm to eyes, lungs, or skin.
The Consequences of Not Having Workers' Compensation Insurance
Should a situation arise, Chemicals and Allied Products Manufacturers could end up facing serious financial turmoil. Workers' compensation is a legal requirement in most states, and failure to provide it is a criminal offense. An employer can incur a fine of not less than $10,000 or imprisonment in jail for up to one year or even both.
Chemicals and Allied Products Manufacturers may also be held responsible for all medical costs sustained by an injured worker in addition to the legal consequences. This can be very costly and detrimental to the owner and company.
The Limits of A Workers' Compensation Policy
The limits on a workers' compensation insurance policy include employee benefits and employer liability. The employee benefits portion of the policy covers medical expenses, rehabilitation expenses, lost wages, and death benefits to the employee's dependents. Employee benefits do not usually have limits or exclusions.
Employers' liability limits are defined within each insurance policy. Business owners may choose to increase the limits for coverage. Each state sets the minimum required coverage limits. Legal, statutory liability limits in most states are:
– $100,000 per occurrence for bodily injuries
– $100,000 per employee for bodily injury by occupational disease
– $500,000 policy limit for bodily injuries by disease
The Benefits of A Workers' Compensation Insurance
Manufacturers of chemical and allied products should carry workers' compensation insurance since it covers the medical bills of employees who sustain occupational injuries and illnesses of any kind. If the employee is unable to resume their job, it further covers their lost wages. Workers' compensation also provides vocational rehabilitation, including job training, career counseling, and assistance in finding new employment if an injury requires the employee to seek new jobs. If an employee dies from injuries suffered in the workplace, benefits which can cover funeral expenses are paid to the employee's spouse, children, or dependents.
The Common Workers' Compensation Class Codes Used
A class code is assigned by the National Council of Compensation Insurance (NCCI) or by state agencies based on the activities of the occupation.
There are many different workers' comp class codes within the chemical manufacturing segment. Below are the common class codes used:
Code 4828: Chemical Blending or Mixing NOC – All Operations & Drivers
Code 4207: Pulp Mfg. — Chemical Process
Code 4829: Chemical Mfg.
Code 3719: Petrochemical Plants and Oil Refineries — Erection and Repair & Drivers
Code 8350: Chemicals and Solvents Distributing — Bulk & Drivers
Code 8107: Industrial Engine Sales and Repair & Drivers
The Cost of A Workers' Compensation Policy
Since workers' compensation insurance is regulated on the state level, a policy's cost depends on where your employees are located. Companies with more employees and higher risks pay larger amounts for workers' compensation. The average price of a standard $1,000,000 Workers Compensation Insurance policy ranges from $29 to $297 per month based on location, industry, payroll, and experience.
UnderWrite Insurance Services is a national insurance agency that provides A-rated workers' compensation insurance to cover chemical manufacturing employees. For a free insurance quote, submit an application below or give us a call at 201-580-6806.