Childcare and Daycare Centers Workers' Compensation Insurance
Workers' compensation insurance is designed to provide financial and medical benefits to those who become ill or are injured at work. Furthermore, it serves to pay off death benefits to the families of workers who perished on the job. This coverage is mandated on a state-by state basis and has varying policies based on location.
For a business to prove it is following state regulations, it must acquire a certificate of insurance or COI. It includes all the basic information of a business, including its types of policies, coverage limits, effective dates for policies, and contact information. Finally, it includes all persons that are insured by the policy. COIs do not cost money, but the actual insurance itself does.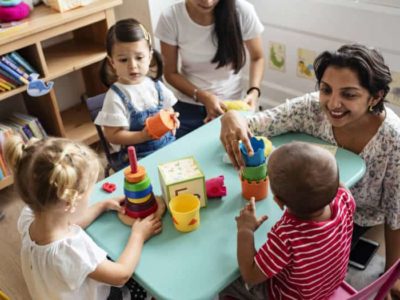 Why Childcare and Daycare Centers employees need workers'
compensation insurance?
Most states require daycare owners and childcare employees to get protected as soon
as they can, as they have a significant likelihood of suffering various injuries. Below are certain examples:
– Wet floor slips
– Raising kids
– Tripping over devices on the playground
The consequences of not having workers' compensation insurance
With very few exceptions, every state requires a business to purchase workers'
compensation insurance for their employees.
Those that fail to do so can face severe repercussions, including fines, out-of-pocket
claims expenses, imprisonment, and the loss of the right to conduct business.
Workers' Compensation Required Limits
The limits on a workers' compensation insurance policy include employee benefits and employer liability. The employee benefits portion of the policy covers medical expenses, rehabilitation expenses, lost wages, and death benefits to the employee's dependents. Employee benefits do not usually have limits or exclusions.
Employers' liability limits are defined within each insurance policy. Business owners may choose to increase the limits for coverage. Each state sets the minimum required coverage limits. Legal, statutory liability limits in most states are:
– $100,000 per occurrence for bodily injuries
– $100,000 per employee for bodily injury by occupational disease
– $500,000 policy limit for bodily injuries by disease
At UnderWrite Insurance Services, we offer one million dollars insurance policies as well.
The Benefits of A Workers' Compensation Policy
Workers' compensation insurance protects employees when they are hurt and acts as a safeguard of liability for both the business and the worker. Injuries and accidents are inevitable, and having an insurance policy in place acts as a no-fault system that pays for such mishaps.
Employees are also covered for long-term recovery programs from the worst scenarios and are provided retraining expenses if they can no longer function as they used to.
The Common Workers' Compensation Class Code(s) Used
A class code is assigned by the National Council of Compensation Insurance (NCCI) or by state agencies based on the activities of the occupation.
There are many different workers' comp class codes within the childcare and daycare center segment. Below is the class code(s) used:
Code 8869 – Child Care Center – All Employees Including Clerical, Salespersons & Drivers
Code 8823: Residential Care Facilities for Children
Code 0891: Child Care or Early Education
Code 9054: Daycare Centers – Camps
The Cost of A Workers' Compensation Policy
Businesses of similar type exhibiting comparable costs and patterns of workplace injury
fall under one of several different classes. Each class has specific rates that are
determined based on the past five years of total loss costs for every business in a class.
The economic factors for every state are then put into this data to determine the rates for the class.
The average rate that a customer will pay for workers' compensation insurance under the class code of child care is approximately $1.25 for every $100 of the payroll. Annual costs for general liability insurance policies average at $475.00 for home daycare insurance. For commercial daycare, policies average at $650.00.
Experience rating allows class rates to be modified based on the loss history of individual businesses. This allows business owners a greater degree of control over the cost of premiums. Businesses considered safe are rewarded with substantially lower rates, and those considered unsafe are penalized with much higher rates.
UnderWrite Insurance Services is a national insurance agency that provides A-rated workers' compensation insurance to cover childcare and daycare center employees. For a free insurance quote, submit an application below or give us a call at 201-580-6806.