Fire Sprinkler Installation and Repairs Workers' Compensation Insurance
If your employees are injured or become ill while on the job, you will need workers' compensation to pay for their medical care, emergency care, recuperation costs, and missed income.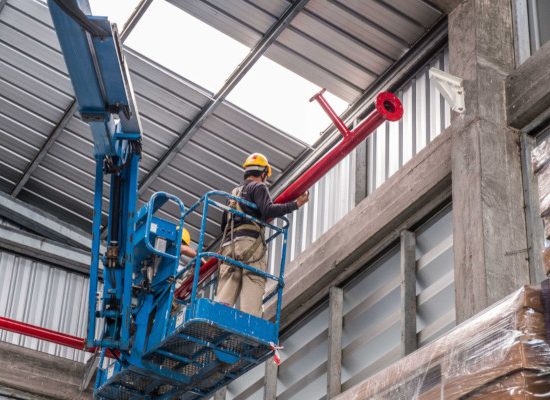 Why Workers' Compensation Insurance
Workers' Compensation Insurance protects business owners from claims by employees who suffer a work­related injury, illness, or disease. As commonly called, workers comp typically provides the injured employee with benefits to cover medical expenses, a portion of their lost wages, rehabilitation costs if applicable, and partial or permanent total disability.
Fire sprinkler contractors that hire other people take on more significant risks and responsibilities.
Despite ample training and education and regardless of your efforts to adhere to all protocols and safety measures, there's still a chance that issues can arise when you and your team are installing a fire sprinkler system. This is why it is essential to have workers' compensation coverage. In most states, having this coverage in your business insurance is required by law. Whether the injury or illness occurs on your premises, at a customer's location, or on the road, your business could be held liable.
Common Injuries Experienced by Employees
Fire sprinkler installation employees face common injuries and exposure from the cutting, welding, drilling, wiring, and other necessary processes during the fire suppression system installation. Injuries can be caused by working with hand and power tools, slipping or falling, and back injuries such as hernias, strains, and sprains from lifting.
Consistently failing to enforce basic safety procedures, such as power shutoff before installing wiring, may cause serious injury such as electrocution. Chemicals used in some installations may be caustic and toxic and cause severe burns.
The Consequences of Not Having Workers' Compensation Insurance
If a fire sprinkler installation contractor fails to carry Workers' Compensation Insurance, they may face severe financial loss. The employer may have to pay for medical expenses out of pocket and may even face severe state penalties such as fines or jail time.
Workers' Compensation Required Limits
The limits on a workers' compensation insurance policy include employee benefits and employer liability. The employee benefits portion of the policy covers medical expenses, rehabilitation expenses, lost wages, and death benefits to the employee's dependents. Employee benefits do not usually have limits or exclusions.
Employers' liability limits are defined within each insurance policy. Business owners may choose to increase the limits for coverage. Each state sets the minimum required coverage limits. Legal, statutory liability limits in most states are:
– $100,000 per occurrence for bodily injuries
– $100,000 per employee for bodily injury by occupational disease
– $500,000 policy limit for bodily injuries by disease
The Benefits of A Workers' Compensation Policy
The benefits of Workers' compensation Insurance include:
Medical Care and First Aid Treatment –­ Whether the problems can be addressed in the emergency room alone or whether surgery and additional care is needed, workers comp insurance coverage for fire sprinkler contractors pays for these and related items.
Temporary Disability – Workers' compensation insurance may provide a stipend during the time an employee cannot work while also paying for additional medicines and services that might be required for recovery.
Permanent Disability – If your employee cannot return to regular work duties because of an injury, a workers' comp insurance policy helps him with day­to­day expenses and the added costs of physical rehabilitation, medications, or ongoing medical treatments.
Worker compensation also protects your company if a third­party lawsuit arises due to injuries and illnesses. It can help if a worker's injury or death results in his family members filing a lawsuit.
The Common Workers' Compensation Class Code(s) Used
A class code is assigned by the National Council of Compensation Insurance (NCCI) or by state agencies based on the activities of the occupation.
There are many different workers' comp class codes within the Fire Sprinkler Installation and Repair segment. Below is the class code used:
Code 5183: Automatic Sprinkler Installation & Drivers – NOC
Code 5188: Sprinkler Installation
The Cost of A Workers' Compensation Policy
Workers' compensation insurance pricing is based on several factors. The lowest and the highest rates a workers' compensation insurance company can charge is filed, set and reviewed by each states' insurance regulators. The average price of a standard policy for small fire sprinkler contractors ranges from $87 to $119 per month based on location, size, payroll, sales, and experience.
UnderWrite Insurance Services is a national insurance agency that provides A-rated workers' compensation insurance to cover fire sprinkler installation and repair employees. For a free insurance quote, submit an application below or give us a call at 201-580-6806.