Food Products Manufacturer Workers' Compensation Insurance
Workers' compensation is a mandatory government system that pays monetary benefits to workers who become injured or disabled in their employment. Workers' compensation is a type of insurance that offers employees compensation for injuries or disabilities sustained due to their job.
Food Products Manufacturing is a sub­sector of the manufacturing industry that accounts for nearly 8% of total jobs in the United States of America.
This industry takes raw products and converts them to finished products sold to grocery stores, retailers, and restaurants.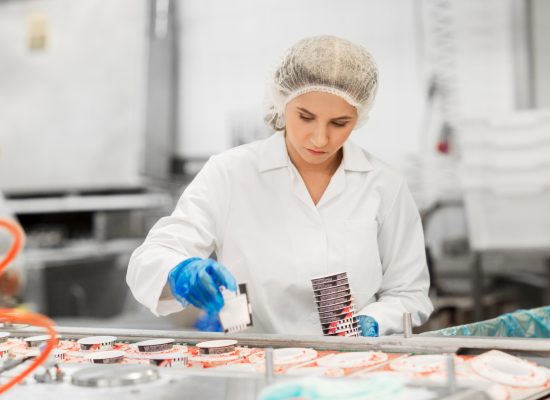 Why Workers' Compensation Insurance
Food manufacturing has one of the highest accident rates among all industries. Employers in this industry do well to get workers' compensation insurance for their employees. The Food Products Manufacturing industry consists mostly of production­type jobs, which can be very physically demanding.
This exposes employees to potential hazards that can cause serious injury on the job. In most states, workers' compensation is required by law and is an integral part of your business's employee benefits package.
Common Injuries Experienced by Employees
Food product manufacturers work in a physically demanding environment and are prone to many hazards that can cause injury. The physical risks associated with manufacturing, include working around machinery, loud noises, lifting and moving heavy products, and repetitive motion. Some common injuries are:
– Overexertion: As employees lift, push, pull, and carry items, they tend to exert themselves more than they should. This can result in employee injuries to muscles such as sprains and strains.
– Repetitive Motion Injuries: Performing the same tasks regularly over a prolonged period can lead to repetitive motion injuries.
– Loss of Limbs: The vast number of machines that are used in manufacturing can present several potential hazards for workers. Workers may lose limbs or other body parts while working with heavy­duty cutters and machinery.
The Consequences of Not Having Workers' Compensation Insurance
If an employer does not have workers' compensation insurance for their food products manufacturing business, this can lead to substantial financial loss. An employer can be left to pay medical expenses out of pocket, and some states have hefty fines or even prison time as a consequence.
Workers' Compensation Required Limits
The limits on a workers' compensation insurance policy include employee benefits and employer liability. The employee benefits portion of the policy covers medical expenses, rehabilitation expenses, lost wages, and death benefits to the employee's dependents. Employee benefits do not usually have limits or exclusions.
Employers' liability limits are defined within each insurance policy. Business owners may choose to increase the limits for coverage. Each state sets the minimum required coverage limits. Legal, statutory liability limits in most states are:
– $100,000 per occurrence for bodily injuries
– $100,000 per employee for bodily injury by occupational disease
– $500,000 policy limit for bodily injuries by disease
The Benefits of A Workers' Compensation Policy
Workers' compensation protects food products manufacturing companies in various ways. It protects employers from legal complications resulting from an injury to someone at work. It also ensures that workers will receive the medical care they need in the event of an injury, and they also receive a portion of their regular income until they can return to work. If an employee suffers a work­related injury or illness, workers' compensation benefits can help cover their ongoing care costs in addition to funeral expenses if the injury results in death.
The Common Workers' Compensation Class Code(s) Used
A class code is assigned by the National Council of Compensation Insurance (NCCI) or by state agencies based on the activities of the occupation.
There are many different workers' comp class codes within the food manufacturing segment. Below is the class code used:
Code 6504: Food Products Mfg. NOC
The Cost of A Workers' Compensation Policy
Employers that manufacture and sell food products can obtain workers' compensation insurance without much difficulty. However, the cost of workers' comp insurance coverage runs higher than the average industry due to the greater risk associated with manufacturing. It is common for national and international food & beverage manufacturers to set­up captive insurance companies to manage their claims. Premiums are determined based on your company's payroll, claims history, experience, and location. Workers' compensation for food manufacturing companies can cost upwards of $99 per employee, depending on the company.
The Food Products Manufacturing industry consists mostly of production­type jobs, which can be very physically demanding. This means employers must invest in workers' compensation for the safety of their employees and company.
UnderWrite Insurance Services is a national insurance agency that provides A-rated workers' compensation insurance to cover food manufacturing employees. For a free insurance quote, submit an application below or give us a call at 201-580-6806.