Mobile Crane and Hoisting Services Workers' Compensation Insurance
Many construction sites use the services of mobile cranes to move or lift heavy material. According to study.com, crane operators can access specific courses, including one about keeping safe on the job. Their employees can refer them to these courses to help them work safely and more efficiently. Another way for employers to protect their employees is to provide workers' compensation insurance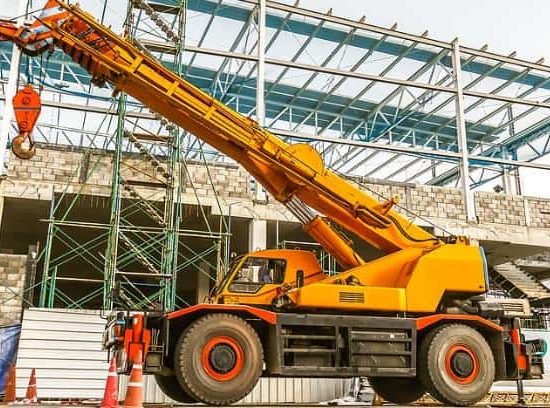 Why Workers' Compensation Insurance
Workers' compensation is a type of insurance that protects businesses and their employees. It is also called workers comp and is a must-have for companies that want to ensure they can cover their employees' medical expenses or make up for lost wages if they become injured on the job.
Working in the Mobile Crane and Hoisting Services has several risks. Crane operators are generally at great heights in the air, helping to move or lift things. However, this means that the workers can fall from those massive altitudes. They can also suffer injuries when the crane experiences malfunctions. Plus, oxygen-related issues can occur at great elevations. This strong likelihood of injury makes workers' compensation insurance an excellent asset
for companies to have.
Common Injuries Experienced by Employees
Sprains: Mobile crane and hoisting services employees often make continuous movements
while operating the crane, leading to repetitive strain injury.
Muscolo-skeletal injury: The jerking movement or wear and tear from constantly lifting
and moving heavy loads can cause sore muscles and joints.
Electrocution: This will occur if the crane accidentally strikes a powerline and tears it
down.
Collapses: If the crane becomes overloaded, it can collapse leading to severe injuries or
even death.
The Consequences of Not Having Workers' Compensation Insurance
Mobile Crane and hoisting services companies that don't have workers' compensation run the risk of being sued. Additionally, they will need to pay for the medical expenses of their workers if they become injured. Since they do not have workers' compensation insurance, it would be an out-of-pocket expense that would put a significant financial strain on the employers.
Workers' Compensation Required Limits
The limits on a workers' compensation insurance policy include employee benefits and employer liability. The employee benefits portion of the policy covers medical expenses, rehabilitation expenses, lost wages, and death benefits to the employee's dependents. Employee benefits do not usually have limits or exclusions.
Employers' liability limits are defined within each insurance policy. Business owners may choose to increase the limits for coverage. Each state sets the minimum required coverage limits. Legal, statutory liability limits in most states are:
– $100,000 per occurrence for bodily injuries
– $100,000 per employee for bodily injury by occupational disease
– $500,000 policy limit for bodily injuries by disease
The Benefits of A Workers' Compensation Policy
Here are some of the key reasons why employers should get worker's compensation insurance for your employees:
– Workers' compensation can cover the medical bills for employees who become
injured while at work. This will also cover the expenses for transportation to the
doctor or to drug stores to retrieve medication.
– Workers' compensation insurance also covers rehabilitative care and disability
benefits.
– This type of insurance also makes up for lost wages when workers are sick and
unable to work.
– If the injury leads to the employee's death, workers' compensation will cover
funeral costs.
The Common Workers' Compensation Class Code(s) Used
A class code is assigned by the National Council of Compensation Insurance (NCCI) or by state agencies based on the activities of the occupation.
There are many different workers' comp class codes within the Mobile Crane and Hoisting Services segment. Below is the class code(s) used:
Code 9534: Mobile Crane and Hoisting Service Contractors — NOC — All Operations & Drivers
Code 7219: Mobile Crane and Hoisting Service Contractors
Code 9530: Crane Service with Operator
Code 3724: Crane–Overhead–Installation & Driver
The Cost of A Workers' Compensation Policy
Workers' comp costs vary depending on the following factors:
– The state that your business operates in
– The size of your business
– The industry
Workers' compensation for mobile crane and hoisting services employees will be based on factors such as the company's payroll, number of employees, and location. The price for mobile crane and hoisting services employees can be as low as $8.39 per $100 of wages.
UnderWrite Insurance Services is a national insurance agency that provides A-rated workers' compensation insurance to cover Mobile Crane and Hoisting Services employees. For a free insurance quote, submit an application below or give us a call at 201-580-6806.