Motorcycle and ATV Repairs Workers' Compensation Insurance
Owning and operating a business can be liberating and rewarding. It, however, comes with great responsibility to employees. One such responsibility is carrying the necessary insurance policies to ensure coverage while on the job.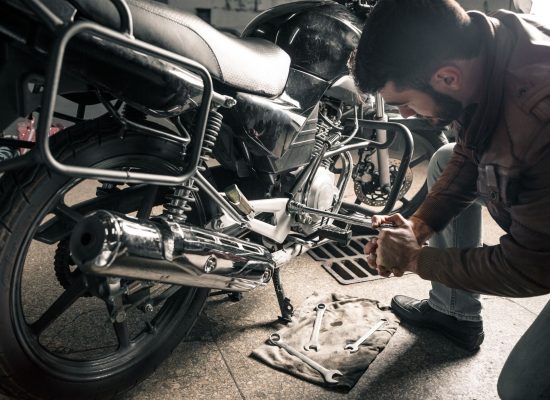 Why Workers' Compensation Insurance
Workers Compensation is a requirement in America. It covers the costs that may result if an employee is injured or becomes ill on the job. If, for instance, an employee is injured while repairing a motorcycle, workers' compensation, commonly referred to as workers comp, will cover their medical expenses and lost income during the recuperation period.
In the work environment, accidents are inevitable. Even in the safest workplaces, mishaps will occur. Motorcycle repair shops can be dangerous places for employees. The potential for smashed hands and crushed limbs from machinery or falling vehicles are present every day. Due to this dynamic environment, it is essential for employers in the motorcycle and ATV repair business to acquire workers comp insurance.
Each state has workers' compensation insurance laws. Most states require nearly every company with employees to provide this coverage, and the cost of not carrying it can be detrimental.
Common Injuries Experienced by Employees
Motorcycle and ATV Repair Mechanics face the daily risk of being struck by such objects and equipment as vehicles, engine parts and tools or being caught in equipment or machinery. These are among the most common sources of on­the­job injuries and deaths among these mechanics. In many cases, motorcycle parts, power tools and equipment are hot. Contact with these objects can cause burns to a mechanic's fingers and hands.
Other common injuries are strains caused by overexertion while lifting objects like tires and wheels, engine parts, and accessories.
Floors and stairs in motorcycle and ATV repair shops can be made slippery by spills of oil, grease, gasoline, water, or other substances. This can lead to slip­and­fall accidents. Tools and equipment left out in a mechanic's work bay can also cause trip­and­fall accidents.
The Consequences of Not Having Workers' Compensation Insurance
If an employer fails to carry workers' compensation insurance, the consequences include financial loss, costly out-of-pocket medical expenses, and state penalties. Business owners who don't have workers' compensation coverage risk facing fines or even jail time, depending on their state laws. An injured worker could sue their employer, resulting in significant financial loss to the business.
Workers' Compensation Required Limits
The limits on a workers' compensation insurance policy include employee benefits and employer liability. The employee benefits portion of the policy covers medical expenses, rehabilitation expenses, lost wages, and death benefits to the employee's dependents. Employee benefits do not usually have limits or exclusions.
Employers' liability limits are defined within each insurance policy. Business owners may choose to increase the limits for coverage. Each state sets the minimum required coverage limits. Legal, statutory liability limits in most states are:
– $100,000 per occurrence for bodily injuries
– $100,000 per employee for bodily injury by occupational disease
– $500,000 policy limit for bodily injuries by disease
The Benefits of A Workers' Compensation Policy
Workers' comp covers illnesses and injuries resulting from duties performed at work or on the job. It'll also cover the services required to help an employee recover and return to work. Motorcycle and ATV repair mechanics may be able to get the following benefits as an injured auto mechanic:
– Medical treatment, including hospitalizations, surgery, follow-up visits, therapy, and prescription medication
– Wage loss benefits, including temporary total disability and temporary partial disability payments
– Permanent partial disability benefits if your injury leaves you with permanent work restrictions
The Common Workers' Compensation Class Code(s) Used
A class code is assigned by the National Council of Compensation Insurance (NCCI) or by state agencies based on the activities of the occupation.
There are many different workers' comp class codes within the Motorcycle and ATV Repair segment. Below is the class code used:
Code 8393: Motorcycle and ATV Repair – NOC
The Cost of A Workers' Compensation Policy
Workers' compensation insurance costs are calculated based on payroll, the state you operate in and your company's claims history. These are among a few of the factors that determine the cost of a workers' compensation premium. The cost can range from $1.29 and upwards per $100 of payroll.
UnderWrite Insurance Services is a national insurance agency that provides A-rated workers' compensation insurance to cover Motorcycle and ATV repairs employees. For a free insurance quote, submit an application below or give us a call at 201-580-6806.