Nursing Homes and Elder Care Facilities Workers' Compensation Insurance
Employees can get hurt while on the job. Workplace injuries are extremely common. According to the National Safety Council, in the United States, a worker is injured on the job every seven seconds. In line with this information, Workers Compensation Insurance plays a valuable role in helping to mitigate the risks employers face if an employee is injured on the job. Workers Compensation Insurance or "workers comp" is an insurance that provides benefits such as medical assistance or wage replacement to employees who have been injured on the job.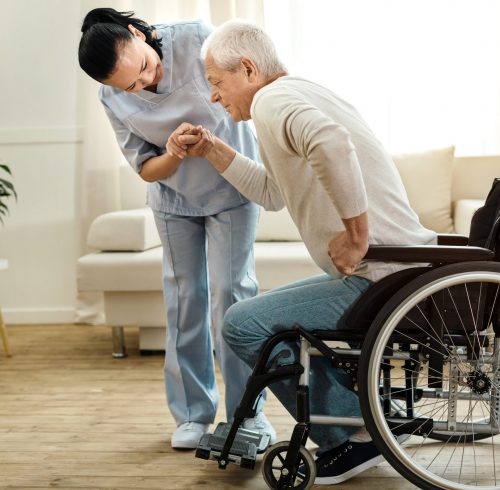 Why Water Nursing Home Employees Need Workers Compensation Insurance
The manual lifting of patients which includes moving residents to and from bed, assisting with bathing, and positioning patients in chairs can cause injuries to the spine and trigger moderate to severe musculoskeletal disorders. These injuries, in turn, not only wreak havoc on the health and earning potential of workers but also on the turnover rate and financial health of nursing home operators. This is why it is vital to have workers' compensation insurance for your nursing home staff.
Common Injuries Experienced by Nursing Home Employees
Workers in nursing homes, assisted living, and similar facilities face daily risks from the spread of disease, infection or physical injury. Exposures to contaminated blood, inadvertent needle pricks, muscle strains or injuries from lifting are just a few of the risks threatening the well‐being of these healthcare professionals.
Benefits of Workers Compensation Insurance for Nursing Home Employees
If an employer does not carry Workers' Compensation Insurance, they are putting their company at serious legal risk. Workers' comp is required by law in many states and failure to provide coverage can lead to hefty fines or even prison time for the employer depending on the state. These fines can range from $1000 to $10,000. In addition to these fines, employers expose themselves to expensive lawsuits or substantial medical bills that could potentially ruin their business.
Benefits of Workers' Compensation Insurance for Home Healthcare Professionals
Many people may believe that workers' compensation covers only medical expenses and lost wages, but employees can also receive benefits that include expenses like mileage, vocational rehabilitation, wages for a second job, and activities of daily living care that come as a result of the accident. Additionally, employees can receive benefits for a permanent partial disability as a result of the accident, even if they return to their regular jobs.
Common Workers' Compensation Class Codes Used for Elderly Care Facilities
A class code is assigned by the National Council of Compensation Insurance (NCCI) or by state agencies based on the activities of the occupation.
There are many different workers' comp class codes within the elderly care segment. Below are a few of the most common class codes in the industry.
Code 8849: Nursing Homes-All Employees
Code 8829: Nursing or Convalescent Home–All Employees
Code 8866: Assisted Living Facility-All Employees & Clerical
Code 9053: Adult Foster Care Asst Living & Home for the Aged
Code 0974: Retirement /Life Care Community
Code 0979: Residential Elderly Non-Medical
Cost of Workers' Compensation Insurance for Nursing Homes and Elder Care Employees
Injury rates for workers at long‐term care facilities – from nursing homes to assisted living facilities, independent facilities, and continuing care retirement communities are substantially greater than average, according to research conducted by the National Council of Compensation Insurance, this has a great impact on the cost of workers compensation insurance. To get a true cost an employer would need to submit information to a suitable insurance provider.
Physically demanding jobs such as working in a nursing home or elder care facility may attract a higher premium. The cost of the coverage can range from $500 to $1500 annually. But this is highly dependent on the factors above.
Employers who invest in workers' compensation Insurance are ultimately contributing to their own peace of mind.
UnderWrite Insurance Services is a national insurance agency established to help Nursing Homes and Elder Care Facilities businesses secure A-rated workers' compensation insurance. For a free insurance quote, submit an application below or give us a call at 201-580-6806.