Oil & Gas Industrial Service Contractors Workers' Compensation Insurance
As per Statista, 1.4 per 100 workers in the US oil and gas industry had the job-related
illnesses and injuries in 2020. Oil and gas industry contractors working within a refinery need to comply with several types of insurance requirements. Having the right insurance company to assist them ensures that oil and gas industry contractors get the right insurance policies for workers' compensation. The right companies give you flexible plans adaptable for your particular needs.
What is Workers' Compensation Insurance
The workers' compensation provides every employee with guaranteed compensation or a
fixed statutory amount in lieu of injuries or losses at the workplace, regardless of fault. It also helps employers who participate in the system through paying for the workers' compensation insurance. Employers common law defenses from all kinds of legal claims against them by an employee(s) who may sustain work-related injuries.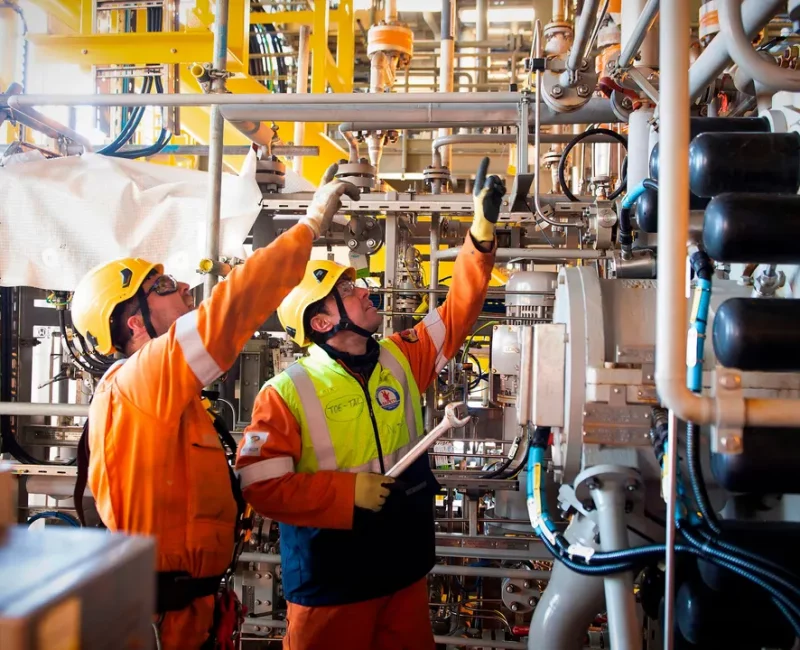 Need for Work's Compensation Insurance by Oil and Gas Industry
The importance of having workers compensation insurance for oil and gas refineries cannot be undermined. Moreover, it's also important to have a good insurance company to help you with it. Refineries and chemical plants involves several jobs such as:
– Heavy equipment transportation
– Insulation
– Fabricating and welding catwalks
– Insulation contractors
– Specialized coating industries
– Welding and machine shops
– Refurbishing pumps
– Valves & compressors
– Piping
– Pigging
– OSHA training and non-destructive testing
And much more
Common Injuries Experienced by Employees
While some trades have relatively low risk, others are hazardous. There are several kinds of risks oil and gas industry contractors and workers are exposed to. They are broadly classified into these categories as per OSHA:
– Confined Spaces
– Vehicle Collisions
– Electrical and Other Hazardous Energy
– Ergonomic Hazards
– Explosions and Fires
– Falls
– High-Pressure Lines and Equipment
– Planning and Prevention
– Machine Hazards
– Struck-By/ Caught-In/ Caught-Between
Based on the risk involved, certain industry personnel requires higher limits of insurance and a broader coverage. The best insurance companies take time to analyze and understand your industry, business practices, and nuances related to your business. They also consider if you're dealing with work at multi-locations or have multi-state exposures with independent contractors, sub-contractors, DOT trucking, and more.
The Consequences of Not Having Workers' Compensation Insurance
The consequences of failing to maintain workers' compensation coverage when required by law can be extremely detrimental to a company. Any company's bottom line will suffer because of fines. They may even compel a company to shut down in terrible circumstances. These are some cases of the penalties that may be imposed by each state if a company is discovered to be operating without any worker's compensation insurance coverage for its employees.
– Fines
In addition to other possible liabilities, firms that fail to offer workers' compensation insurance to their employees, whether or not an injury has occurred, run the danger of being penalized by the Department of Labor and Industry (DLI). The company might be forced to provide the required insurance protection, stop hiring anyone at any time without insuring the employee, and pay a fine of up to $1,000 for each employee for each week the employee was uninsured.
– Uninsured workers injured on the job
Employees have the right to ask the state Special Compensation Fund to pay the required compensation if they sustain a compensable injury and their company did not get insurance or follow the correct self-insurance procedures.
– Ten days to respond to further fines and sanctions
A department order regarding insurance coverage must be complied with or opposed by the employer within ten days. The order is deemed final and cannot be reviewed if the commissioner does not receive an objection. If the employer disputes the order, a workers' compensation judge will be asked to determine whether the fine or other aspects of the order are appropriate. In the event that the employer loses, the judge can impose further fines if uninsured workers were employed while the case was pending. Most states have their own state laws that penalize firms that fail to comply with the workers' compensation insurance requirement. It is preferable to protect oneself from potentially costly and time-consuming lawsuits.
Workers' Compensation Required Limits
The limits on a workers' compensation insurance policy include employee benefits and employer liability. The employee benefits portion of the policy covers medical expenses, rehabilitation expenses, lost wages, and death benefits to the employee's dependents. Employee benefits do not usually have limits or exclusions.
Employers' liability limits are defined within each insurance policy. Business owners may choose to increase the limits for coverage. Each state sets the minimum required coverage limits. Legal, statutory liability limits in most states are:
– $100,000 per occurrence for bodily injuries
– $100,000 per employee for bodily injury by occupational disease
– $500,000 policy limit for bodily injuries by disease
– 1,000,000 policy limit is available as well.
The Benefits of A Workers' Compensation Policy
With an worker's compensation insurance in place, oil and gas industry workers can make an easy claim to get payment that covers their medical expenses and wage loss expenses. They get compensation when the claim gets approved and get complete legal assistance for the same from the insurance company. The oil and gas worker's compensation insurance is going to cover:
– A portion of wage loss
– Medical care
– Rehabilitation costs
– Compensation for permanent injuries
– Benefits to dependents
– Death expenses
With the insurance company, you and your workers get appropriate safety and loss control. Insurance companies have a comprehensive loss prevention program which has the right industry benchmarks for worksite safety assessments. These insurance policies come with regulatory compliance with DOT and OSHA.
Not complying with requirements of workers compensation insurance for workers can have serious consequences as this is particularly a risk-prone industry.
– Employers may have to pay the cost of medical expenses and wage losses from their pocket.
– Have negligence suits filed by injured employee(s).
– Have to pay for States penalties: Due to non-compliance for giving insurance to the workers, employers may have to face charges of misdemeanour or felony.
The Common Workers' Compensation Class Code(s) Used
A class code is assigned by the National Council of Compensation Insurance (NCCI) or by state agencies based on the activities of the occupation.
There are many different workers' comp class codes within the oil and gas segment. Below is the class code(s) used:
Code 6233: Oil or Gas – Pipeline Construction & Drivers
Code 6202: Drilling Or Redrilling Of Oil Or Gas Wells & Drivers
Code 6235: Drilling or Redrilling of Oil or Gas Wells & Installation of Casing
Code 1320: Gas Or Oil–lease Operator–natural Gas–all Operations & Drivers
Code 1332: Oil Or Gas–well–cleaning Or Swabbing Of Wells–by Specialist Contractor–no Drilling & Drivers
Code 6236: Oil Or Gas–well–installation Or Recovery Of Casing & Drivers
The Cost of A Workers' Compensation Policy
UnderWrite Insurance Services is a national insurance agency that provides A-rated workers' compensation insurance to cover oil and gas services employees. For a free insurance quote, submit an application below or give us a call at 201-580-6806.