Structural Steel Erection Workers' Compensation Insurance
A workers' compensation policy is essential for structural steel erection companies to have. As more and more developers seek to use steel frameworks, the structural steel erection business remains lucrative. But it is also considered the most dangerous form of construction. Hence, if you are an operator of a structural steel erection business, you have to ensure that you put in place workers' compensation insurance to protect your workers.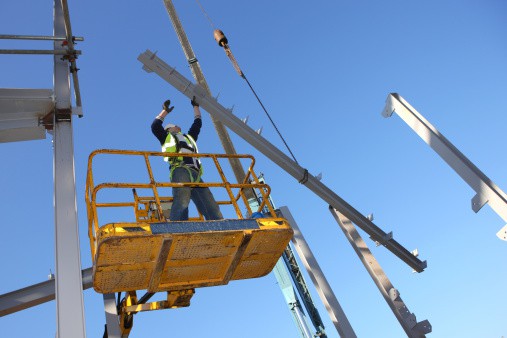 Why Workers' Compensation Insurance
Workers' compensation is a type of insurance for businesses that protects employees who experience injuries on the job. It helps to pay for medical care or lost wages as a result of injury.
Structural steel erectors are involved in using steel to construct buildings of various heights and sizes. Their main tasks are bending and breaking steel, usually at great heights. Inevitably, there is a chance of workers being injured on the job. With this likelihood of injury, workers' compensation insurance is essential to have.
Common Injuries Experienced by Employees
Falls: Structural steelworkers work at great heights and can easily fall leading to broken limbs, and fatal injuries.
Being struck: When working on huge buildings, workers will end up working with heavy-duty machinery that can hit them in their head or other sections of the body.
Cuts: Lifting and bending steel, a very sharp metal that can cut workers on various body areas.
Eye injuries: While hitting the metal during construction, metal splinters can fall in the employee's eye, causing severe injuries.
The Consequences of Not Having Workers' Compensation Insurance
Structural steel erection companies without workers' compensation for their employees can face lawsuits and heavy fines. If, while working, an employee gets hurt on the job and is not covered by workers' compensation insurance, they can sue the company. These lawsuits, out-of-pocket expenses, and medical expenses can cause the site operator significant financial loss. They can also face imprisonment based on the state.
Workers' Compensation Required Limits
The limits on a workers' compensation insurance policy include employee benefits and employer liability. The employee benefits portion of the policy covers medical expenses, rehabilitation expenses, lost wages, and death benefits to the employee's dependents. Employee benefits do not usually have limits or exclusions.
Employers' liability limits are defined within each insurance policy. Business owners may choose to increase the limits for coverage. Each state sets the minimum required coverage limits. Legal, statutory liability limits in most states are:
– $100,000 per occurrence for bodily injuries
– $100,000 per employee for bodily injury by occupational disease
– $500,000 policy limit for bodily injuries by disease
The Benefits of A Workers' Compensation Policy
Workers' compensation will cover medical expenses for employees who get injured on the job. This can also include the cost of rehabilitative care. Some workers become so severely injured that they are unable to work for long periods. Workers' compensation helps to remedy this by covering lost wages while their employee is out. If the injury leads to death, the workers' compensation policy will also assist the deceased employee's family with funeral costs.
The Common Workers' Compensation Class Code(s) Used
A class code is assigned by the National Council of Compensation Insurance (NCCI) or by state agencies based on the activities of the occupation.
There are many different workers' comp class codes within the Structural Steel Erection segment. Below is the class code(s) used:
Code 5040: Iron or Steel Erection – NOC
Code 5059: Iron or Steel Erection – Frame Structures Not Over 2 Stories in Height
Code 5538: Sheet Metal Work – Shop & Outside – NOC & Drivers
Code 5069: Military Reservation Construction – Iron or Steel Erection
The Cost of A Workers' Compensation Policy
Workers' comp costs vary depending on the following factors:
– The state that your business operates in
– The size of your business
– The industry
Another factor that affects workers' comp premium is your workers' comp claims history, known as an experience modifier. Typically, a structural steel erection company can pay anywhere from $5.65 to $10 per $100 of wages for workers' compensation.
Despite the cost, Workers' Compensation Insurance is important in protecting your business from employees injuries.
UnderWrite Insurance Services is a national insurance agency that provides A-rated workers' compensation insurance to cover Structural Steel Erection employees. For a free insurance quote, submit an application below or give us a call at 201-580-6806.