Tree Removal Workers' Compensation Insurance
If you own and operate any business and have hired help, then you must consider the importance of Workers' Compensation Insurance as soon as possible. If you operate a tree removal service and employ people to assist, you will certainly need Worker's Compensation Insurance.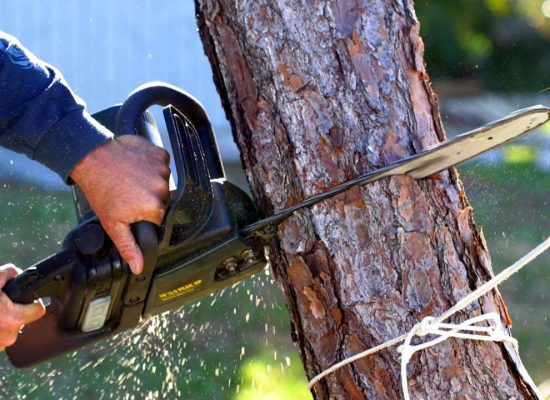 Why Workers' Compensation Insurance
Workers' compensation is a type of commercial insurance that covers employees' workplace injuries. It also serves one other essential function that helps differentiate it from different insurance types ­ it prevents employees from suing their employers for workplace injuries.
Tree Removal employees cut away dead, obstructive, or excess branches from trees and shrubbery. They utilize dangerous equipment such as chain saws to cut down limbs. They may also climb trees to cut down limbs properly. This means that they are prone to serious workplace injuries, and therefore it is vital to have a workers compensation policy.
Common Injuries Experienced by Employees
Cuts and Scrapes: Cuts are the most common types of injuries when trimming a tree. Incorrect use of tools and equipment such as pruners, chainsaws, or hacksaws can cause cuts.
Falls: Working at heights can be pretty risky, so falls are relatively common in tree-cutting accidents.
Electrocution: The chances of electrocution increase when trimming a tree or shrub planted near power lines.
Being Struck: Being hit by a falling object such as a branch or limb is a danger that most people do not consider when tree trimming.
The Consequences of Not Having Workers' Compensation Insurance
Tree Removal Contractors who don't carry workers' compensation coverage risk facing penalties such as fines or even jail time, depending on their state laws. An injured worker could sue their employer, resulting in significant financial loss. If an employee suffers a fall from a tree while on the job and does not have a workers' comp policy, the employee could file a lawsuit against the employer to recover medical expenses.
Workers' Compensation Required Limits
The limits on a workers' compensation insurance policy include employee benefits and employer liability. The employee benefits portion of the policy covers medical expenses, rehabilitation expenses, lost wages, and death benefits to the employee's dependents. Employee benefits do not usually have limits or exclusions.
Employers' liability limits are defined within each insurance policy. Business owners may choose to increase the limits for coverage. Each state sets the minimum required coverage limits. Legal, statutory liability limits in most states are:
– $100,000 per occurrence for bodily injuries
– $100,000 per employee for bodily injury by occupational disease
– $500,000 policy limit for bodily injuries by disease
The Benefits of A Workers' Compensation Policy
If an employee in your tree removal business is injured on the job, the workers' compensation policy will cover all related medical costs, which could include rehabilitation expenses. It will also pay for lost wages while the employee is unable to work, which in cases of serious injuries could mean lost wages are paid out until retirement age. For businesses with many employees, those costs could run in the millions of dollars each year.
In situations where workplace injury leads to death, workers' compensation will pay for funeral and burial expenses. It may also pay a death benefit related to lost wages, making it similar in some ways to an employer­based life insurance policy.
The Common Workers' Compensation Class Code(s) Used
A class code is assigned by the National Council of Compensation Insurance (NCCI) or by state agencies based on the activities of the occupation.
There are many different workers' comp class codes within the Tree Removal segment. Below is the class code(s) used:
Code 0106: Tree Removal – NOC
Code 2702: Brush or Timber Cutting and Removal & Drivers
Code 6217: Tree Excavation
The Cost of A Workers' Compensation Policy
Workers' comp costs vary depending on the following factors:
– The state that your business operates in
– The size of your business
– The industry
Another factor that affects workers' comp premium is your workers' comp claims history, known as an experience modifier. Typically, a tree removal company can pay anywhere from $25 to $50 per $100 of wages for workers' compensation.
Despite the cost, companies must invest in Workers' Compensation Insurance.
UnderWrite Insurance Services is a national insurance agency that provides A-rated workers' compensation insurance to cover tree removal employees. For a free insurance quote, submit an application below or give us a call at 201-580-6806.