Truck Repairs Workers' Compensation Insurance
Truck repair mechanics work with heavy­duty equipment and hazardous chemicals regularly. Business owners in this industry must make every effort to protect their well­being and their employees by investing in Workers' Compensation Insurance.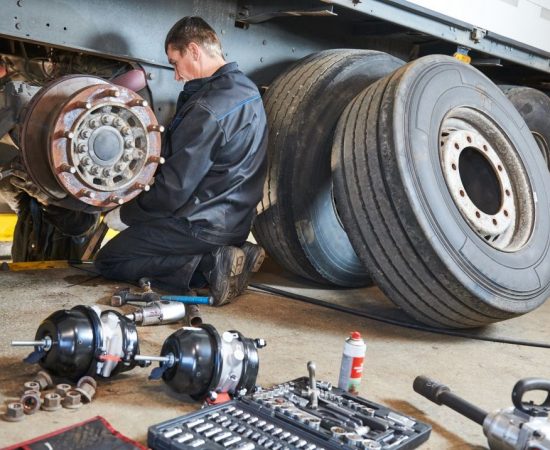 Why Workers' Compensation Insurance
Workers' Compensation is a type of insurance employers need to help injured employees pay for medical costs and lost wages due to job­related illness and injuries. It also protects employers from being sued by employees for workplace conditions that might have caused the illness or injury through the employer's liability coverage. Workers' Compensation is a way to protect your employees, your business, and yourself.
Workers' Compensation is primarily needed since it is a legal requirement in most states. Truck Repair Mechanics face many on­the­job hazards, from chemical burns to slip­and­fall accidents. With such risks, the likelihood of injury increases. They are exposed to working conditions and dangers that increase the risks of suffering devastating and costly injuries.
Common Injuries Experienced by Employees
Truck Repair Mechanics suffer many types of injuries and occupational illnesses. These include:
Acute injuries – such as abrasions, cuts, bruises, and burns from using tools or handling automotive parts.
Sprains, strains, and tears –  Working under the hood or chassis while fixing a truck can increase the possibility of injury. Lifting, carrying, pushing, and pulling machinery and tools also puts truck repair mechanics at risk of injury.
Chemical burns – Mechanics work with many dangerous chemicals and substances that can lead to injury if they touch the skin.
Slips, trips, and falls – Oil changes, transmission flushes, and vehicle maintenance can leave the floor slippery. And many auto shops have tools or parts lying around. Common injuries in slip and falls include knee injuries and shoulder injuries, which reduce the likelihood that the injured employee will return to his or her pre­injury employment.
The Consequences of Not Having Workers' Compensation Insurance
If a truck's chassis injures an employee of your truck repair business, they are liable to make a claim. If your company does not carry workers' compensation insurance, you will have to take medical expenses out of pocket. This can be potentially devastating to your business. Failure to have workers' comp insurance is also an offense that is punishable by the law. According to state laws, an employer can be fined thousands of dollars or face time in prison if they fail to carry workers' comp. An employer may suffer hefty financial loss due to a lawsuit if an employee is injured while on the job.
Workers' Compensation Required Limits
The limits on a workers' compensation insurance policy include employee benefits and employer liability. The employee benefits portion of the policy covers medical expenses, rehabilitation expenses, lost wages, and death benefits to the employee's dependents. Employee benefits do not usually have limits or exclusions.
Employers' liability limits are defined within each insurance policy. Business owners may choose to increase the limits for coverage. Each state sets the minimum required coverage limits. Legal, statutory liability limits in most states are:
– $100,000 per occurrence for bodily injuries
– $100,000 per employee for bodily injury by occupational disease
– $500,000 policy limit for bodily injuries by disease
The Benefits of A Workers' Compensation Policy
Workers' comp covers illnesses and injuries resulting from duties performed at work or on the job. It'll also cover the services required to help an employee recover and return to work. Truck repair mechanics may be able to get the following benefits as an injured auto mechanic:
– Medical treatment, including hospitalizations, surgery, follow-up visits, therapy, and prescription medication
– Wage loss benefits, including temporary total disability and temporary partial disability payments
– Permanent partial disability benefits if your injury leaves you with permanent work restrictions
The Common Workers' Compensation Class Code(s) Used
A class code is assigned by the National Council of Compensation Insurance (NCCI) or by state agencies based on the activities of the occupation.
There are many different workers' comp class codes within the Truck Repair segment. Below is the class code used:
Code 8393: Automobile Body Repair – NOC
Code 8393: Truck or Trailer Body Repair & Drivers
The Cost of A Workers' Compensation Policy
Workers' compensation insurance costs are calculated based on the type of business, your total payroll, and other factors insurance carriers might use to assess your business risk, such as history of workers' compensation claims. Since it regulated at the state level, the rates differ. The average rate for truck repair mechanics can cost around $1.29 per $100 of payroll.
UnderWrite Insurance Services is a national insurance agency that provides A-rated workers' compensation insurance to cover truck repairs employees. For a free insurance quote, submit an application below or give us a call at 201-580-6806.