Sign Makers & Sign Manufacturers Workers' Compensation Insurance
Every employee in any organization must be well-versed in the many policies set in place for his or her benefit. When there are accidents or injuries while employees are on duty, specific policies are put in place to deal with the consequences. Workers Compensation Insurance is one of these policies.
What Is Workers' Compensation Insurance?
Workers compensation insurance is a policy that is offered to a business owner to cover the costs of work-related accidents to their employees. This sort of insurance covers all expenditures incurred as a result of a worker's injury, including medical bills, rehabilitation, lost wages, and permanent disability or death.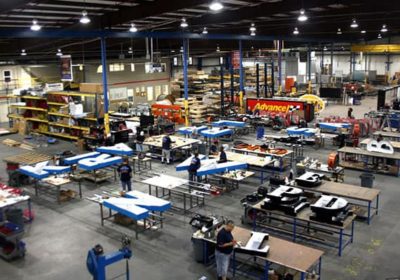 Why Workers' Compensation Insurance
Sign Makers and Sign Manufacturers may be easily hurt at work and should have enough insurance coverage in case of an accident. Workers' compensation, sometimes known as workers' comp, can help cover medical expenses and lost wages for accidents sustained while working in the manufacturing company. Workers' compensation insurance is not only legally necessary for all Sign Makers and Sign Manufacturers, but it also protects the firm by reducing its financial risk.
Common Injuries Experienced by Employees
The most common injuries experienced by Sign Makers & Sign Manufacturers are:
– Amputation injuries from getting caught in machines
– Musculoskeletal disorders due to overexertion or repetitive motions
– Burn injuries
– Broken bones
– Illnesses due to toxic exposure
It is your responsibility to ensure everyone's security and safety at your organization, no matter how so few they visit. You should protect your firm, its employees, and its clients by acquiring enough worker compensation insurance
The Consequences of Not Having Workers' Compensation Insurance
Owners of small businesses are constantly seeking ways to minimize costs and enhance their bottom line. Nevertheless, one area where they should not cut corners is workers' compensation insurance.
Many business owners may consider workers' compensation insurance to be an unnecessary expense, especially if none of their employees have suffered a significant work-related injury. However, business owners who do not have workers' compensation coverage may face penalties or even jail time, depending on their state's laws.
Since obtaining workers' compensation is required in all states except Texas, businesses that do not operate in Texas and do not purchase this coverage may face severe fines and sanctions. The degree of sanctions for noncompliance varies by state. However, various factors will determine how much you will have to pay in fines for noncompliance, such as:
– Why you're not in compliance: In a scenario where you purposefully omit or
misrepresent information such as the types of work your employees perform and the
number of individuals you employ, you're likely to pay a lot more than if your
noncompliance was accidental or inadvertent.
– How long you haven't complied: Most states will charge you a fee for each day your
firm is not in compliance.
– Size of your staff: Again, this varies by state and is not a rule of thumb, but the smaller
your company and the fewer employees you have, the lower your fines for
noncompliance will typically be.
Workers' Compensation Required Limits
The limits on a workers' compensation insurance policy include employee benefits and employer liability. The employee benefits portion of the policy covers medical expenses, rehabilitation expenses, lost wages, and death benefits to the employee's dependents. Employee benefits do not usually have limits or exclusions.
Employers' liability limits are defined within each insurance policy. Business owners may choose to increase the limits for coverage. Each state sets the minimum required coverage limits. Legal, statutory liability limits in most states are:
– $100,000 per occurrence for bodily injuries
– $100,000 per employee for bodily injury by occupational disease
– $500,000 policy limit for bodily injuries by disease
At UnderWrite Insurance Services, we offer one million dollars insurance policies as well.
The Benefits of A Workers' Compensation Policy
Here are some of the key reasons why employers should get worker's compensation insurance for your employees:
– Workers' compensation can cover the medical bills for employees who become
injured while at work. This will also cover the expenses for transportation to the
doctor or to drug stores to retrieve medication.
– Workers' compensation insurance also covers rehabilitative care and disability
benefits.
– This type of insurance also makes up for lost wages when workers are sick and
unable to work.
– If the injury leads to the employee's death, workers' compensation will cover
funeral costs.
The Common Workers' Compensation Class Code(s) Used
A class code is assigned by the National Council of Compensation Insurance (NCCI) or by state agencies based on the activities of the occupation.
There are many different workers' comp class codes within the sign maker and manufacturing segment. Below is the class code(s) used:
Code 2501: Sign Manufacturing–Silk Screen Printing–Cloth
Code 3064: Sign Manufacturing–Metal
Code 9501: Sign Manufacturing–Plastic or Vinyl Computer-Generated Letters, Sign Painting or Lettering–Inside of Buildings & Drivers
Code 4299: Sign Manufacturing–Silk Screen Printing–Paper or Posterboard
The Cost of A Workers' Compensation Policy
The cost of coverage will depend on where your employees are situated because each state has different requirements for workers' compensation insurance. Due to the heightened risk of workplace injuries, organizations with more employees may pay higher rates for workers' compensation insurance.
You pay a certain amount of workers' compensation for each $100 of your company's total
payroll. Your workers' compensation premium is determined by the categorization rate of the sort of job your employees undertake, your experience modifier (claims history), and your payroll (per $100).
UnderWrite Insurance Services is a national insurance agency that provides A-rated workers' compensation insurance to cover Sign Makers and Sign Manufacturing employees. For a free insurance quote, submit an application below or give us a call at 201-580-6806.