Workers' Compensation Insurance for Carpenters
Workers' Compensation Insurance is an important investment for employers in all industries. The carpentry business is no exception. Due to the labor‐intensive nature of the construction industry, it brings a high risk of injuries that could place a tremendous financial burden on your business. For example, if your carpentry apprentice experiences a nail gun injury, it could lead to substantial medical bills and downtime from work. Workers' Compensation Insurance is a type of business insurance that provides benefits to employees who suffer work‐related injuries or illnesses. It specifically helps pay for medical care, wages from lost work time and protects employers from lawsuits due to work‐related injuries.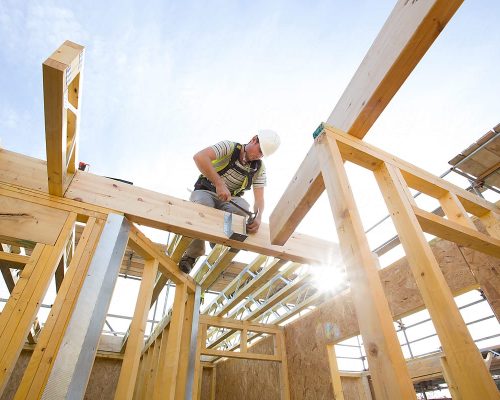 Why Do Carpenters Need Workers Compensation Insurance?
Carpenters work with varying equipment such as circular saws, grinders, drills, block plane, nail punch set, trimming or utility knives, and much more. These make them especially prone to incidents where their fingers become trapped in machinery or they slip and cut their hands. Workers' Compensation is required by law in many states.
This type of law is intended to ensure payment by employers for some part of the cost of injuries, or in some cases, of occupational diseases, received by employees during their work. This insurance will ensure that your business can continue to operate even after an employee may be injured on the job. Business continuity and peace of mind are ensured when you invest in workers' compensation insurance.
Common Injuries Experienced by Carpenters
Carpenters work with sharp tools, heavy equipment, and material that can cause serious injuries over the life of their jobs. They are prone to injuries such as:
Hand and finger Injuries – In addition to getting their fingers caught in machines, carpenters perform the same movements constantly resulting in, repetitive strain injury in the hands.
Back Injuries ‐ The lifting of heavy items such as large pieces of wood and heavy equipment can contribute to back injury. Falls and trips are another common cause of back injury in the workplace that carpenters may experience due to untidy work areas.
Knee Injuries ‐ Carpenters may suffer from stiff, strained, or painful knees which may even lead to arthritis. This is because a large amount of their work is carried out at ground level. They are often required to kneel for lengthy periods.
Eye Injuries – Carpenters are exposed to sawdust, metal, slivers of wood, and nails. It's extremely common for carpenters to have eye injuries that cause temporary loss of sight. In severe cases, carpenters can be blinded by a stray piece of metal or wood.
Consequences of Not Having Workers' Compensation Insurance for Carpentry
Failure to have workers' comp insurance for your carpentry business is an offense that is punishable by the law. An employer can be fined thousands of dollars depending on the state they operate in. It may even be determined that the employer should face prison time in some instances. The cost of not having workers comp insurance could find an employer suffering serious financial loss due to a lawsuit in the event an employee is injured at a company that is required to have a workers' comp policy but doesn't. Employers may also end up paying large medical bills out of pocket. In some states, if it is determined that an employer is operating without workers' compensation coverage, a stop order can be issued, resulting in expensive downtime for your carpentry business.
Benefits of Workers' Compensation Insurance for Carpenters
When an employer has workers' compensation insurance, there is tremendous benefit to employees and the company. If an employee is injured, carpenter workers comp insurance can protect them from suffering lost wages if they must be away from work for a period to recover. It also pays for multiple types of expenses that are generated from the injury, including emergency room care, hospital stay, rehabilitative treatments and medicines. It also covers the legal expenses for an employer if a liability claim arises. This may include the cost of legal counsel or court fees if they are necessary.
Cost of Workers' Compensation Insurance for Carpenters
As with most insurance, there are varying factors that will contribute to the cost of workers comp insurance for carpenters. These include the type of work performed and exposure to risk. For example, a deck builder and flooring contractor are both considered carpenters by trade, however, due to the requirements of their jobs, they may be exposed to different levels of risk. Workers' Compensation Insurance for Carpenters can cost anywhere from $3000 annually to $10,000.
Workers' Compensation Insurance for carpenters will prove to be a great long‐term investment for any employer as it helps to reduce risk to their business.
UnderWrite Insurance Services is a national insurance agency established to help carpenters secure A-rated workers' compensation insurance. For a free insurance quote, submit an application below or give us a call at 201-580-6806.