Workers' Compensation Insurance for Truckers and Why You Should Consider It
Workers Compensation Insurance is usually referred to as "workers comp". It is a form of insurance that provides benefits such as medical assistance or wage replacement to employees who have been injured on the job. Though it may seem like a burdensome cost at first, workers comp is a great benefit to both employees and employers. Without workers' insurance, an employee can sue their employer for a work‐related injury while with it, an employee has financial protection and medical assistance in the case of an injury on the job.
Truckers are ideal for Workers Compensation Insurance due to the very nature of their jobs. The Federal Motor Carrier Safety Administration (FMCSA) estimates that there are approximately 17 deaths and 7 non‐fatal workplace injuries per 100,000 workers in the transportation, warehousing and utility sectors. This means that thousands of workers suffer injuries and deaths each year in the trucking industry.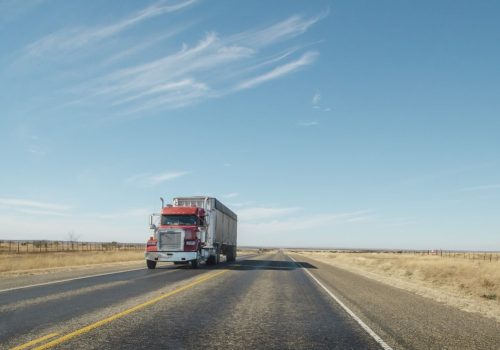 Why Do Truckers Need Workers' Compensation Insurance?
Workers' compensation is required by law in many states. This type of law is intended to ensure payment by employers for some part of the cost of injuries, or in some cases, of occupational diseases, received by employees during their work.
Due to the nature of their job, truckers especially need workers' compensation. Truck drivers are prone to several musculoskeletal injuries compared to workers in other jobs. They sit for many hours and then follow this up with brief intervals of strenuous labor when they load or unload the truck. Many truck drivers fit the stereotype of overweight, because they may get little to no physical exercise which contributes to poor health.
The constant travel and long working hours on the road may also greatly affect their sleep schedule and contribute to irregular sleep habits. If unchecked, this can cause serious damage and may even lead to drivers falling asleep at the wheel. These poor lifestyle habits directly impact the time the employee remains off work following an on‐the‐job injury, which also in turn affects the company's bottom line.
Consequences of Not Having Workers' Compensation Insurance
If an employer does not offer Workers Compensation, they are putting their company at serious legal risk. As mentioned earlier, workers comp is required by law in many states. Failure to provide workers comp can lead to hefty fines or even prison time for the employer depending on the state.
According to the Occupational Safety and Health Administration (OSHA), the most common trucker injuries are:
– Strains and sprains which account for up to 50% of injuries
– Bruises
– Fractures
– Cuts and lacerations
– Soreness and pain
– Multiple traumatic injuries
The most common situations where injuries occur include vehicular accidents, slip and falls climbing in or out of the cab or trailer, and accidents that occur when loading and unloading the truck, just to name a few. Crush injuries where a part of the load falls on the driver also cause serious injury. An employer who does not have workers' compensation insurance takes a very expensive and unnecessary risk.
The Benefits of Having Workers' Compensation Insurance
Workers' compensation insurance provides benefits to employees who get injured or sick from a work‐related cause. It provides coverage for medical expenses, compensation for fatal injuries and missed wages during recovery. It also includes disability benefits and covers the employer against lawsuits in the case of work‐related injuries.
The Cost of Workers' Compensation Insurance for Truckers
Workers' Compensation Insurance for truck drivers is usually more complicated than most workers comp policies because drivers often travel through many different states, which each have different laws. They may be insured in one state and get injured in another. This will affect the cost and the way the insurance policy is structured. The primary factors that affect the cost of a workers' comp policy include the driver's wage, the classification code of the job, the rate based on the classification and the experience modification.
Most often, the cost of workers' compensation insurance is calculated and paid based on the average weekly wage. Some companies estimate that this can cost between 8‐15% of the driver's salary. The classification code is set by the National Council on Compensation Insurance (NCCI) and the experience modification is determined by the cost of losses that the insurer has experienced with an employer. Insurance providers explain these factors when pricing a workers comp policy.
UnderWrite Insurance Services is a national insurance agency established to help truckers secure A-rated workers' compensation insurance. For a free insurance quote, submit an application below or give us a call at 201-580-6806.