Workers' Compensation Insurance for Gutter Installers and Cleaners
According to the Bureau of Labor Statistics, private industry employers reported 2.8 million nonfatal workplace injuries and illnesses in 2019. Workplace injuries are common, and they highlight the need for employers to protect their staff and business by having Workers' Compensation Insurance. Workers' Compensation Insurance provides medical and wage benefits to people who are injured or become ill at work. This coverage is also accessed if an employee dies due to a work‐related injury.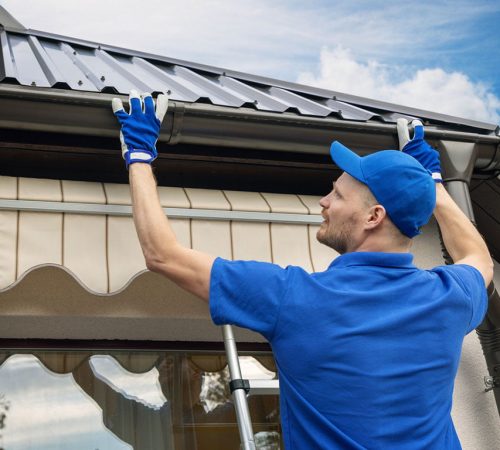 Why is Workers' Compensation Insurance Vital for Gutter Installers and Cleaners?
Gutter Installers and Cleaners who work on roofs are at high risk of sustaining fall from height injuries. Workers' Compensation Insurance helps to protect workers from potentially distressing costs of work‐related injuries, and it helps protect employers from potential damages that could cripple a business based on workers' comp claims. It is also a requirement by law in most states.
Common injuries experienced by Gutter Installers and Cleaners
Due to the nature of their jobs, gutter installers and cleaners work in high‐risk environments that expose them to the danger that can result in work‐related injuries or even death. The most common type of injury is ladder falls. This can lead to back injuries or even a disability that may last for a lifetime.
Another common injury is electrocution due to contact with electrical wiring. Especially if the area is wet, this risk is increased.
Exposure to pests and mold spores can lead to respiratory illnesses and diseases. Moisture and dark areas such as gutters can attract rats and cause mold to grow which can lead to these types of illnesses.
Consequences of Not Having Workers' Compensation Insurance for Gutter Installers and Cleaners
If an employer does not carry Workers' Compensation Insurance, they are putting their company at serious legal risk. Workers' comp is required by law in many states and failure to provide coverage can lead to hefty fines or even prison time for the employer depending on the state. These fines can range from $1000 to $10,000. In addition to these fines, employers expose themselves to expensive lawsuits or substantial medical bills that could potentially ruin their business.
Benefits of Workers' Compensation Insurance for Gutter Installers and Cleaners
When your workers are covered, you can rest easy knowing your business is also covered. Workers' Comp covers an employer against potential lawsuits from a work‐related injury. Workers' compensation insurance policies cover medical bills if an employee is injured or gets sick on the job. If a Gutter Installer or cleaner dies as a result of an injury or illness, the policy can also pay for related expenses as part of its "death benefits."
Injury may cause your employee to be out of commission for some time, a workers' comp policy covers the loss of wages that they may suffer due to the injury. Gutter installers and cleaners are prone to accidents that may cause serious spinal damage, it is beneficial to note that workers comp insurance covers the cost of rehabilitation if the employee needs to access it.
Cost of Workers' Compensation Insurance for Gutter Installers and Cleaners
The cost of workers' compensation insurance is dependent on several factors. These include:
– The state(s) where your employees work
–  Your annual payroll
– Your industry
– The type of work done by your employees
– Your claims history
Physically demanding jobs such as Gutter installation and cleaning may attract a higher premium. The cost of the coverage can range from $500 to $1500 annually. But this is highly dependent on the factors above.
Employers who invest in workers' compensation Insurance are ultimately contributing to their own peace of mind.
UnderWrite Insurance Services is a national insurance agency established to help gutter installers and cleaners secure A-rated workers' compensation insurance. For a free insurance quote, submit an application below or give us a call at 201-580-6806.