Introduction
If you are a contractor, then you already know difficult it is to wear all the hats and complete a project successfully. Your success ultimately depends on subcontractors to complete their jobs successfully. But finding good subcontractors is a complicated task. It requires time, patience, and energy. It is like finding a needle in the haystack.
But don't worry, we have got you covered. We have whittled down five ways to help you find quality subcontractors for your contracting business.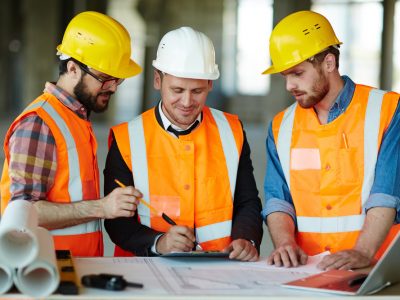 Use Technology
In this ever­evolving digital world, people are relying on technology. Apps like Thumbtack can be very useful. Thumbtack finds you the right person for your project. Give it a try and you can find subcontractors for more than 100 skills. The hiring process is simple and easy, you can even see their previous work to be sure of hiring the right guy.
If this sounds too tech­savvy for you, then just Google. Most people still find good reliable subcontractors from the top­ranked websites on Google.
Save Contacts
Good sub­contractors are everywhere. They are around you. So if you pass by and see some contractor's truck just take a photo and save the job type and phone number. It can be handy when you need one. Just type the job type in your phone list and find the list of suitable contacts you saved.
If you drive by a site that you wish you could do, just ask who is doing the job and save contacts of subcontractors working there. Be respectful but keep asking. So next time when you need a subcontractor for your job, they are just a phone call away.
Talk to Other general contractors
Talk to other contractors you know. You might also talk to a good friend or someone who doesn't treat you as their competition, Just ask them who do they hire for their projects. Maintain a strong relationship with the other general contractors and eventually maintain the relationship with middle guys. Be it plumber, cleaner, or electrician.
Ask others who recently built a new office or home
You can ask a friend or family member who has recently built their home or even a business owner about their newly built office. Ask them whom they hired to build it. Maybe just ask who was their carpenter or plumber. This will help you shortlist the right subcontractors.
Supply houses
Wherever you get supply from, ask them whom they recommend. They mostly know the most credible people to work with. This helps you build a network of good quality subcontractors.
Bottom Line
The key to finding quality subcontractors is to keep asking as there is nothing to lose by just asking. This is very important that you have strong communication with your subcontractors. Treat your subcontractors as an asset for your team so that you stop looking and start picking. Save the data and keep contacts of subcontractors handy so that whenever you need them for a project you can start without any delay.
UnderWrite Insurance Services is a national insurance agency established to help contractors secure A-rated insurance coverage ranging from general liability to workers' compensation. For a free insurance quote, submit an application below or give us a call at 201-580-6806.