Demolition Workers' Compensation Insurance
Workers' compensation insurance helps protect businesses and their employees from financial loss if an employee is injured or gets sick from a work‐related incident. Workers' compensation is also known as workers' comp. It covers wage replacement and medical benefits in the case of an injured employee. The family of a worker who dies may also gain death benefits from a workers' compensation policy. Employees who are injured under a workers' comp policy waive the right to take legal action if they are injured on the job.
Why Demolition Contractors Need Workers' Compensation Insurance?
Workers' Compensation Insurance provides funds for medical expenses and lost wages if one of your employees is injured or killed while on the job. Demolition has a higher rate of injury than many other professions therefore it is very important for demolition contractors to have workers' compensation coverage. It is a legal requirement in most states for employers to have workers' compensation insurance.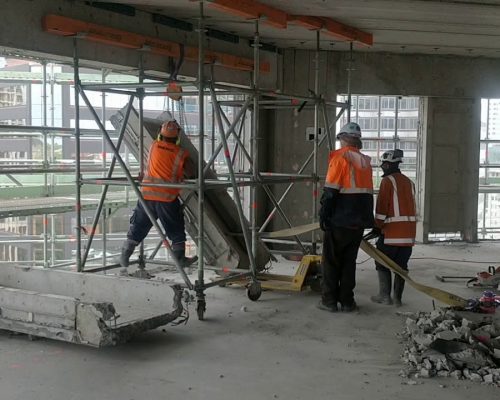 Common Injuries Experienced by Demolition Contractors
Demolition contractors tear down buildings, structures, machinery, or equipment. They may use different techniques according the type of building or structure being demolished. This type of work involves heavy machinery and falling objects, which could put them, their employees at risk of serious injuries. Here are some of the most common accidents seen in demolition sites that can lead to serious injuries:
– Accidents caused by falling objects, this can cause brain damage or even spinal injury
– Explosions causing materials to become dangerous projectiles which can lead to death
– Traumatic brain injury or permanent disabilities caused by workers falling from scaffolding and ladders
– Exposure to toxic gases and chemicals can cause long‐term illnesses such as cancer and lung diseases
– Live wires causing electrocution
– Chemical gases and liquids causing caustic burns
Consequences of Not Having Workers' Compensation Insurance for Demolition Contractors
If an employer fails to take out workers' compensation insurance, they may face penalties that could seriously devastate their business and livelihood. Since it is mandatory in most states, uninsured employers can be hit with hefty fines or even imprisonment. An employee can bring a lawsuit against your company if they are injured in a work‐related incident. This could mean long court proceedings that could lead to financial ruin. Not to mention the downtime your business experiences if an employee is injured and the work is stopped due to noncompliance.
Benefits of Workers' Compensation Insurance for Demolition Contractors
Having Workers' compensation insurance protects your company from potentially business‐ruining litigation expense should a large claim arise. In the event an employee is seriously injured by a projectile from a demolition site, workers' compensation insurance can cover their medical expenses and any loss wages they may experience due to recovery time. It also covers death expenses in the event an accident during demolition leads to the death of an employee.
Cost of Workers' Compensation Cost for Demolition Contractors
The cost of workers' compensation insurance for businesses in the construction injury are usually complicated because of the high‐risk nature of most of the jobs. Demolition contractors can pay anywhere from $67 to $109 per month based on their location, the size of the company, payroll, sales, and experience. The cost of workers' comp insurance may vary based on your state and your claims history.
Workers' Compensation Insurance is important for demolition contractors who want to protect their business for the long‐term. There are several incidents that can occur on a demolition site and so it is imperative to be protected when they do arise.
UnderWrite Insurance Services is a national insurance agency established to help demolition businesses secure A-rated workers' compensation insurance. For a free insurance quote, submit an application below or give us a call at 201-580-6806.