Drywall Workers' Compensation Insurance
Workers' compensation insurance is important for your business and is a legal requirement in most states. It is a type of insurance that covers wage replacement and medical benefits to employees injured in the course of employment. Employees who are covered by workers' compensation insurance waive the right to their employer for the offense of negligence in the case of a job‐related injury or accident.
Why Drywall Contractors Need Workers Compensation Insurance
Drywall contractors need workers' compensation insurance because of the nature of their work. It is physically demanding and often fast‐paced. A drywall contractor works with heavy material such as gypsum wallboard and assemblies. Assembling drywall may require them to climb ladders which can lead to injuries from a fall. They may also have to perform repetitive movements which can lead to long‐term injuries. It is important for drywall contractors to have workers' compensation insurance in order to protect their company from the liabilities associated with the injuries an employee may face when on the job.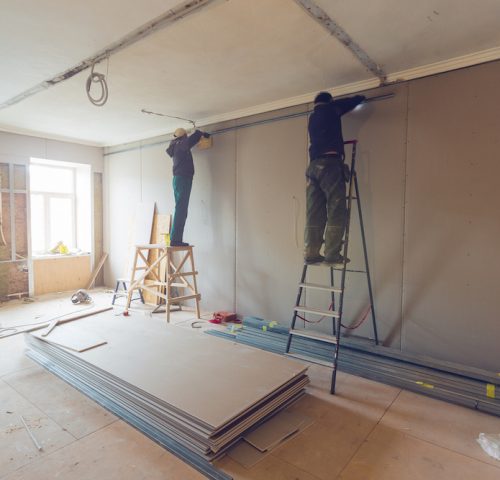 Common Injuries Experienced by Drywall Contractors
Drywall contractors work with heavy equipment and material that can cause serious injuries over the life of their jobs. They are prone to injuries such as:
– Injuries caused by heavy lifting: Overexertion injuries are one of the most common injuries drywall installers suffer. They regularly lift heavy drywall over the course of a workday. This overexertion leads to soft tissue injuries, such as back, spine, and shoulder injuries, that can require rest, medication, and physical therapy for months or longer before they recover.
– Injuries caused by repetitive movements: The tasks involved in installing drywall are repetitive and can result in workers suffering injuries such as tendonitis, trigger finger and carpal tunnel syndrome. Back strains, sprains are also common. In some cases, a worker could suffer chronic pain and limitations of movement that leaves them with a permanent disability.
– Falls: Falls are another leading cause of drywall workers' injury. Working from heights or ladders while carrying or handling drywall sheets can result in a worker losing his balance and falling. Tools left unattended, debris and other construction materials pose fall risks for workers. Falls can lead to serious brain injury, broken bones, fractures, internal organ damage, or spinal cord damage if they fall.
Consequences of Not Having Workers Compensation Insurance for Drywall Contractors
If a drywall contractor fails to carry workers' comp insurance this can lead to criminal prosecution, fines, and result in expensive lawsuits. An employer can be fined thousands of dollars depending on the state they operate in. It may even be determined that the employer should face prison time in some instances. The cost of not having workers comp insurance could find an employer suffering serious financial loss due to a lawsuit in the event an employee is injured at a company that is required to have a workers' comp policy but doesn't. Employers may also end up paying large medical bills out of pocket. In some states, if it is determined that an employer is operating without workers' compensation coverage, a stop order can be issued, resulting in expensive downtime for your drywall contracting business.
Benefits of Workers Compensation Insurance for Drywall Contractors
When an employer has workers' compensation insurance, there is a tremendous benefit to the employees and the company. If an employee is injured, workers' comp insurance can protect them from suffering lost wages if they must be away from work in order to recover. It also pays for medical expenses that are generated from the injury, including emergency room care, hospital stay, rehabilitative treatments, and medicines. Legal expenses for an employer if a liability claim arises is a great benefit of workers' compensation insurance. This may include the cost of legal counsel or court fees if they are necessary.
Cost of Workers Comp for Drywall Contractors
As with most insurance, there are varying factors that will contribute to the cost of workers comp insurance for drywall contractors. These include the type of work performed and exposure to risk. The amount you pay for workers' compensation is a specific rate based on your business's payroll. Your premium is determined by the type of work done by your employees and your claims history. Workers' Compensation Insurance for Drywall Contractors can cost anywhere from $3000 annually to $10,000.
UnderWrite Insurance Services is a national insurance agency established to help drywall contractors secure A-rated workers' compensation insurance. For a free insurance quote, submit an application below or give us a call at 201-580-6806.