Home Healthcare Professionals Workers' Compensation Insurance
Workers' Compensation Insurance provides medical and wage benefits to employees who are injured or become ill at work. This type of insurance also provides death benefits to an employee's family if they die due to a work‐related injury. Workplace injuries are common and highlight the need for employers to protect their staff and business by having Workers' Compensation Insurance.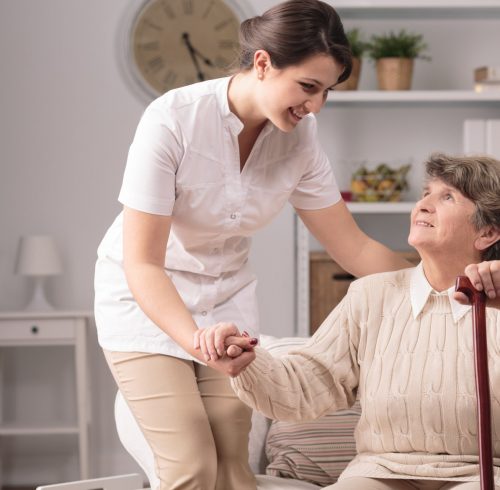 Why Home Healthcare Professionals Need Workers' Compensation Insurance
Workers' Compensation is a legal requirement in most states. Home Healthcare Professionals need workers' compensation insurance to protect against injuries that may be caused by the job. As with other business ventures, there are inherent risks in the day‐to‐day activities of home healthcare workers. Workers' compensation insurance can protect employees from the financial obligations associated with risks. It is also needed in order to assist business owners to cover expenses that may arise due to injuries or fatalities that may occur on a job site.
Common Injuries Experienced by Home Healthcare Professionals
The most common injuries to Home Healthcare Professionals are sprains, strains, and other musculoskeletal injuries related to lifting and moving patients. These can lead to back injuries which often happen due to moving patients or picking up heavy items. Other issues that may cause injuries to home healthcare workers include:
Needle Sticks ‐ healthcare workers may use a lot of needles on a daily basis and are highly prone to cuts and puncture wounds which can actually carry blood‐borne diseases.
Violence ‐ Some workers often deal with mental patients who can have violent outbursts that cause serious injury to their caregivers.
Head Injuries ‐ These are often the result of slipping and falling in the workplace.
Consequences of Not Having Workers' Compensation Insurance for Home Healthcare Professionals
Failure to have workers' comp insurance for your home healthcare worker is an offense that is punishable by the law. An employer can be fined thousands of dollars depending on the state they operate in. It may even be determined that the employer should face prison time in some instances. There is also financial loss due to a lawsuit in the event an employee is injured on the job. Employers may also end up paying large medical bills out of pocket.
It is important to note that if a home healthcare worker is employed through an agency, the agency should have workers' compensation insurance, which will provide coverage for their medical bills and lost wages. However, if the home healthcare worker is an independent contractor or self-employed then the homeowner may be responsible for covering the medical bills and other losses due to injury on the job.
Benefits of Workers' Compensation Insurance for Home Healthcare Professionals
The benefits of having workers' compensation insurance includes medical coverage, disability benefits, rehabilitation, death benefits coverage for lost wages, and protection from civil action if an employee is injured. The kinds of benefits injured workers receive are typically consistent across the country, however, the value of benefits provided and the manner in which they are delivered varies from state to state.
Common Workers' Compensation Class Codes Used for Home Healthcare Professionals
A class code is assigned by the National Council of Compensation Insurance (NCCI) or by state agencies based on the activities of the occupation.
There are many different workers' comp class codes within the home health aide industry. Below are a few of the most common class codes in the industry.
Code 0942: Home Health-Professional Staff
Code 8835: Home Health Care
Code 8828: Home Healthcare–All Other Employees
Cost of Workers' Compensation Insurance for Home Healthcare Professionals
Workers' compensation for Home Healthcare workers is usually calculated by identifying the following:
Classification Rate ‐ your workplace exposures
Payroll ‐ this includes salaries, commissions, bonuses, overtime, leave pay, allowances
Experience modification factor ‐ a value based on your business' past claims experiences and how this compares with others in the same industry
Once this calculation is done, it can be determined that a premium for your workers' compensation insurance can cost upwards of 2000 annually.
Good workers' compensation insurance will allow business owners to focus on some other important activities in your business as it will offer reliable coverage in the event of any incidents.
UnderWrite Insurance Services is a national insurance agency established to help home healthcare businesses secure A-rated workers' compensation insurance. For a free insurance quote, submit an application below or give us a call at 201-580-6806.