Pressure Washing Workers' Compensation Insurance
Workers' compensation is a form of insurance that pays workers who are injured or become disabled as a result of their job. It provides wage replacement and medical benefits to injured employees. Typically referred to as "workers comp," this type of insurance is an investment that every business owner must make to protect their company and employees.
Why Pressure Washers Need Workers' Compensation Insurance?
Pressure washing businesses need workers' compensation insurance to protect themselves against financial risks that may occur as a result of an employee who is injured on the job. Some business owners believe that because they do not have a large operation, they do not need workers' compensation insurance, however, this can be a very misleading belief that can turn out to be costly in the end. As your pressure washing business grows, a compensatory policy for employees should become a priority.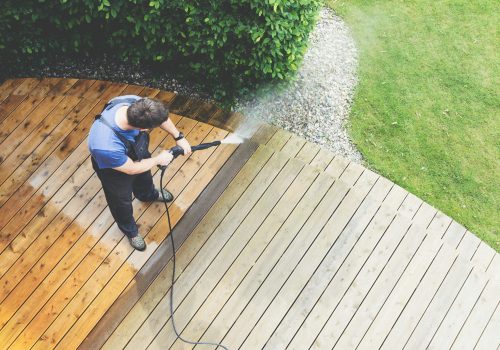 A workers' compensation policy will provide coverage for a range of on‐the‐job accidents that may result in medical intervention, disability, or death. Pressure washers have to work with high‐pressure equipment to clean areas such as building exteriors, paved surfaces, commercial vehicles, and farm equipment. They may be exposed to heights and slip and fall accidents as a result of the excess water involved in their daily activities. It is very important to have workers' compensation insurance for your pressure washing business.
Common Injuries Experienced by Pressure Washers
Some of the injuries that employees can suffer as a result of pressure washers include:
– Abrasions
–  Penetration wounds from broken glass, rocks, and other debris
– Eye injuries and blindness
– Infections such as tetanus
– Injection injuries caused when cleaning chemicals penetrate the skin
– Slip‐and‐fall injuries occurring on flat surfaces
– Falls from a ladder or scaffolding when using a pressure washer
– Electrocution injuries
Depending on the type of pressure washer utilized in the business employees can also suffer other long‐term effects. For example, the use of gas‐powered pressure washers presents special hazards if not handled correctly. Extended use can cause hearing loss.
The Consequences of Not Having Workers' Compensation Insurance for Pressure Washers
If an employer does not carry Workers' Compensation Insurance, they are putting their company at serious legal risk. Workers' comp is required by law in many states and failure to provide coverage can lead to hefty fines or even prison time for the employer depending on the state. These fines can range from $1000 to $10,000. In addition to these fines, employers expose themselves to expensive lawsuits or substantial medical bills that could potentially ruin their business.
The Benefits of Workers' Compensation Insurance for Pressure Washers
The benefits of having workers' compensation for your pressure washing business far outweighs the cost. Workers' compensation provides legal liability coverage for a business if an employee is involved in an incident or accident on the job. Workers' compensation benefits will provide the financial compensation an employee may need to continue paying their bills and to take care of their expenses in the event of an injury that prevents them from working. It will also pay for any medical treatment, prescriptions, surgery, prosthetic limbs, or physical therapy that the employee may need.
How Much Does Workers' Comp for Pressure Washers Cost?
The cost of workers' comp varies based on multiple factors such as the number of workers being insured, the annual salary and even the claims history of a company. Different states have their own requirements, and this will also affect the cost of the insurance you may receive. Costs can range from $30 per month up to $100 per month. However, this differs when the factors above are considered.
Workers' compensation is a great benefit to both the employer and employees. It is a system that provides an investment that many business owners may not realize they need until it is too late.
UnderWrite Insurance Services is a national insurance agency established to help pressure washers secure A-rated workers' compensation insurance. For a free insurance quote, submit an application below or give us a call at 201-580-6806.