Welding Workers' Compensation Insurance
Workers' compensation is a type of insurance that provides benefits to employees who get injured or sick from a work‐related incident. Workers' compensation insurance or workers' comp as it is often called includes disability benefits, missed wage replacement and death benefits for employees. It reduces an employer's liability for work‐related injuries and illnesses.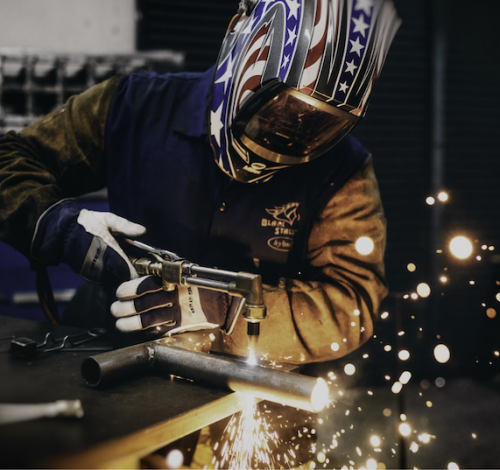 Why Do Welding Contractors Need Workers' Compensation Insurance?
According to data from the Bureau of Labor Statistics, more than 500,000 workers are injured every year due to welding accidents. Welders work with high levels of heat and energy in order to weld two pieces of metal together. It is a very dangerous occupation, with a high risk or worker fatality. Therefore, welding contractors should view workers' compensation for their business as high priority in order to mitigate the risks associated with work‐related injuries or even fatal accidents involving employees at work. Additionally, workers' comp is a mandatory legal requirement in most states.
Common Injuries Experienced by Welders
A welding contractor is exposed to many health hazards such as highly toxic dust, smoke, and fumes as a result of heated metals. These can cause asthma, heart disease, cancer and even reproductive issues. Here are a few other injuries that welding contractors may have to deal with:
– Injuries from fire, due to constant sparks or the possible presence of flammable materials, including gasoline and solvents
– Burns from extreme heat and exposure to ultraviolet rays emitted by the welding process
– Injuries to the eyes, due to excessive heat or exposure to the intense ultraviolet rays that are part of the welding process, commonly called "arc eye"
– Light‐headedness and risk of falls due to inhalation of fumes
– Injuries from working in confined spaces
– A variety of injuries due to excessive fatigue because of overwork, from having to work multiple shifts
Consequences of Not Having Workers' Compensation Insurance for Welders
Welding contractors know the risk they face in the industry. On‐the‐job welding accidents could lead to serious injury. An employee could contract illnesses from exposure to weld fumes resulting in your business being held liable for the medical and possibly legal expenses depending upon the nature of the injury. This can be very costly and cause ruin to your business financially and reputationally.
Benefits of Workers' Compensation Insurance for Welders
If your employee suffers a work‐related injury or illness, workers' compensation benefits can help cover their medical expenses that may arise both immediate and long‐term. It can also cover lost wages if an employee is unable to work for a period of time due to the injury. The family of the employee can also receive death benefits in the case of a fatal injury. Employees who are covered by workers' compensation insurance also waive the right to seek legal redress if they are injured in a job‐related incident.
Cost of Workers' Compensation Insurance for Welders
There are different variables that affect the cost of workers' compensation insurance for welding contractors. These include the location of your business, the number of employees you may wish to cover, your claims history and the payroll. These factors will contribute to the amount you pay and the value of the coverage you receive. It can anywhere from $500 to $1500 annually considering the factors above. These figures are not definitive since the cost varies and it is best to speak with your insurance provider to get the best rates.
Workers' compensation insurance is an investment in the welfare of your company and your employees. It is a sound financial decision that will have a beneficial long‐term effect.
UnderWrite Insurance Services is a national insurance agency established to help welding contractors secure A-rated workers' compensation insurance. For a free insurance quote, submit an application below or give us a call at 201-580-6806.