Workers' Compensation Insurance for Roofers
No matter the type of business you operate, it is always important to remember that your employees can get hurt. Workplace injuries are extremely common. According to the National Safety Council, in the United States, a worker is injured on the job every seven seconds. In line with this information, Workers Compensation Insurance plays a valuable role in helping to mitigate the risks employers face if an employee is injured on the job. Workers Compensation Insurance or "workers comp" is an insurance that provides benefits such as medical assistance or wage replacement to employees who have been injured on the job.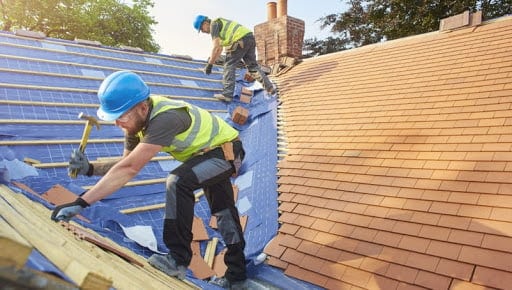 Importance of Workers Compensation Insurance for Roofers
Having workers comp insurance for your roofing business is very important as it helps to protect you from the costs of accidents that may occur on the job. Roofers work multiple stories off the ground, on sometimes uneven surfaces, and rely on ladders and scaffolding to get up high. Additionally, if the weather is bad, the risk increases.
Without this type of insurance, you may expose yourself and your business to lawsuits, fines or even prison time, depending on the state you are located. Roofers encounter many hazards on the job, including hazards associated with working at heights and from ladders, using power tools and electricity, high‐frequency noise, hazardous substances, and extreme
Consequences of Not Having Workers Compensation Insurance for Roofers
Not having workers' compensation insurance can leave your company paying a very hefty fine. Your business could be left paying a lawsuit or your employee's medical bills for a lifetime. If an injured worker files a workers' compensation claim and their employer is uninsured, that employee can obtain legal representation. Failure to carry workers' compensation insurance is a criminal offense in some states and is punishable with a fine, jail time or both.
The Benefits of Having Workers' Compensation Insurance
If a roofing contractor falls off a ladder, is injured by a sharp tool, or suffers a dangerous fall due to a defective harness, workers' compensation insurance will cover the medical bills associated with the incident. If you are injured and unable to return to work, workers' compensation will cover some of your lost wages. This means that you can replace a portion of the employee's income until they are able to return to work.
In some cases, where the employer has workers comp, if the injury is so severe that the employee is unable to return to work, they may also be eligible for long‐term benefits.
Cost of Workers Compensation Insurance
The cost of workers' compensation insurance for roofers may differ depending on where you are located. Workers comp is state‐regulated insurance and so the cost varies accordingly. Industries that face higher risks, like roofing, tend to have more expensive policies than perhaps a plumber. In some states for example base rates for workers' comp for roofers can range from around $24 to $80 per every $100 spent on payroll. While in another state an employee can pay a premium of $810 per month. It is very evident that the higher the risk, then the higher the cost for workers comp insurance.
Workers Compensation Insurance is evidently important for roofers. It helps to protect them from the risks associated with work‐related injuries and protects employers from complete loss of livelihood due to lawsuits or even worse, jail time.
UnderWrite Insurance Services is a national insurance agency established to help roofers secure A-rated workers' compensation insurance. For a free insurance quote, submit an application below or give us a call at 201-580-6806.